American Vogue Acknowledges Fashion Bloggers on their March 2010 Power Issue
As previously mentioned, the incredibly smart and funny Tina Fey (in Prada Spring/Summer 2010) is on the cover of American Vogue's March 2010/Power issue. I apologize for the very blurry photo (which I lifted from Jezebel). I'm not going to comment on Tina Fey right now until I see a better picture.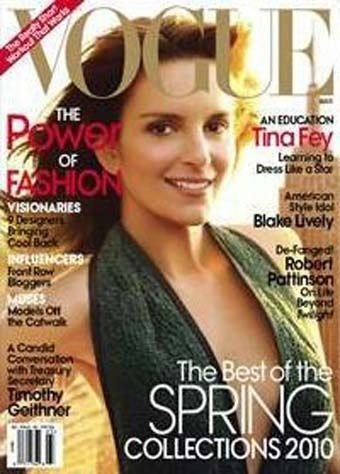 Anyhoo... the Power issue is Vogue's 2nd biggest issue of the year after September.
Sounds like an action-packed issue with feature stories on: 9 visionary designers, influential front-row bloggers, models who are muses in real life... and more! Never in my life I thought I'd see the word "blog" on its pages (which we all have seen already, btw) and now, "bloggers" on the cover of American Vogue? Totally amazing!
Speaking of front-row bloggers, I'm dying to know who they are. They must be in cloud nine right now with the incredible nod from THE bible. I'm buying 20 copies when this issue hits the newstands simply because of the blogger story. This is what we live for!
Hey -- don't point fingers at me -- it's a mixed bag this season. Although I received several row 1 & 2 seats, I scored 7th row at Phillip Lim, 7th row at Narcisco Rodriguez and *I HEAR A COLLECTIVE GASP, I KID, I KID* standing at Derek Lam. It's all perfectly fine and ok; I'm just happy to be there to see the clothes! Not gonna throw a big song and dance number on my part as a) you can see the photos online within hours from getty or b) I could always make an appointment after the show to see them in real life at the showrooms.
I guess we'll have to wait for the issue to come out in the next week or two eh? I'm very excited!
Meanwhile, let me share you a photo I took when I went to the Bronx last December. I saw this enormous garment bag with a Vogue sticker on it. Maybe they had a shoot? I don't know.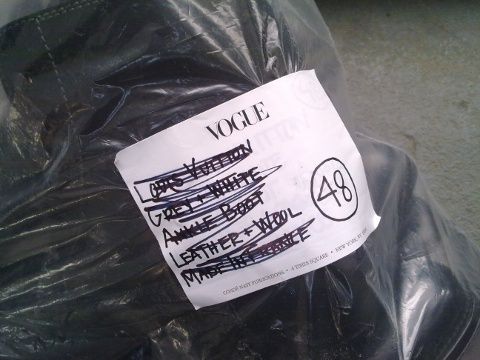 Cheeky. Hahaha ;-)
Time to sleep. It's 4AM and we have clothes to see tomorrow.