Swine Flu in the Philippines
Oh no. I just got up and when I went to the kitchen to get breakfast (1 bowl of lettuce... I'm on a diet), I overheard my mom talk about swine flu. She heard it on the radio. I immediately went online and it's all true. H1N1 virus aka swine flu is now in the Philippines! This from the Associated Press via Boston Herald:
MANILA, Philippines — The Philippines on Thursday confirmed its first case of swine flu in a girl who had traveled to the U.S. and Canada.

Health Secretary Francisco Duque said the 10-year-old had developed cough, fever and soar throat a day after returning to Manila on Monday and tested positive for the virus Tuesday.

She was treated with the antiviral drug Tamiflu and her condition has improved, Duque told reporters. She remains confined in a Manila hospital, he said.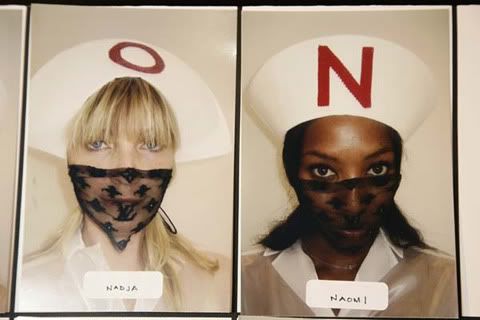 I don't know about you but now, more than ever, I want that Richard Prince for Louis Vuitton mask.



*photo credit: catwalking