Can't Please Everybody, Can't Know It All
Can't Please Everybody, Can't Know It All
Greetings from cloudy Rio de Janeiro!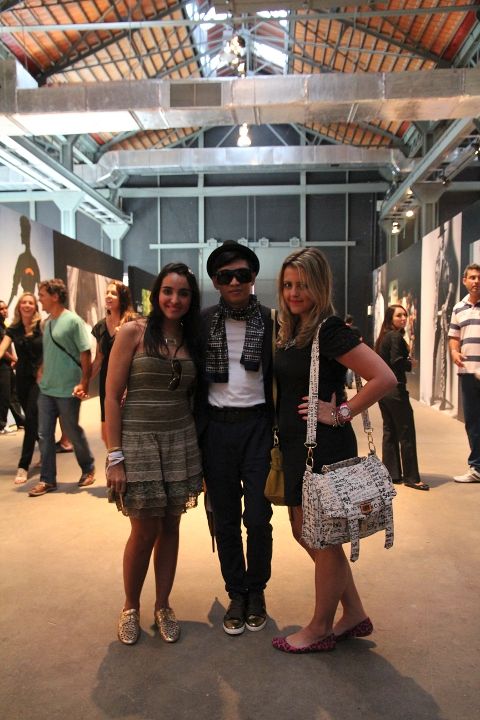 My first day at Fashion Rio was quite the spectacle. Brazilians are some of the friendliest, warmest and cheerful people in the world! People fawned over me like a new addition, the bizarre act, to the circus. It was an honor meeting some of my Brazilian readers and followers. As you know, interacting with my readers has always been a personal pleasure of mine. Up to this day, I am still fascinated how I have readers in this part of the world. It was very worrying when some of them were shaking or were extremely nervous when they approach me or ask to get take my photo. Please, my friends, please don't be nervous. It's just good ol' me!
I gave a number of interviews both to some members of the press as well as fellow bloggers. The most frequently asked question has got to be "what are your expectations during Fashion Rio or what are your expectations on Brazilian designers?"
I answered as truthful as I can. I told them I want to be surprised. I don't really have any any expectations whatsoever as my knowledge of Brazilian fashion is (aside from Alexandre Herchcovitch, Rosa Cha and Melissa Shoes),to put it blunt, absolutely limited. It would be unfair for me to apply the same expectations I have on the usual American, French or Italian brands to an emerging industry such as the Brazilians. It would also be unfair if I gave myself an immediate crash course on Brazilian brands by googling them a few days before I went here only to give a half-baked, mediocre answer for "good PR"  purposes. Rather than "walking the walk, talking the talk", it's best to just go and learn about Brazilian brands as I see encounter them in person. I always find discovering things on your own as the best way to educate oneself. One cannot and should not make a concrete opinion without being fully informed.
While it's all rainbows and unicorns on the outside, I have a feeling not everyone seemed to be happy with my answers. I've seen a few jaws drop. A few faces eve lit fake smiles. It's a personal mind game of mine to guess what's inside their head while they ask me the next question. I'll never forget the time when I went to Berlin last year. I approached this Filipino guy outside a club. I told him I love his necklace and I was wondering where it was from. He then haughtily replied "how come you don't know it? you're a fashion blogger! you should know these things. I could do a better job than you!"
Indeed.
Why do bloggers have this ridiculous pressure (or expectation) to know "everything"?
I don't know about you but to me, as simple and as pure as it is, the element of surprise is what makes fashion fun and exciting.
Last summer in Florence over lunch, my beloved (and fellow blogger) Jane Aldridge of Sea of Shoes explained to me why she took out the commenting function on her blog. What she told me somehow reminded me of what I learned during breakfast earlier: when it comes to dealing with people, you should never talk to them in their language. Once you do, you're giving them the upper hand.
I'll leave it up to you, in your own language, to interpret that. Surprise me.
follow me on Twitter