Alber Elbaz and Moi
Alber Elbaz and Moi
After all these years, Alber and I finally met.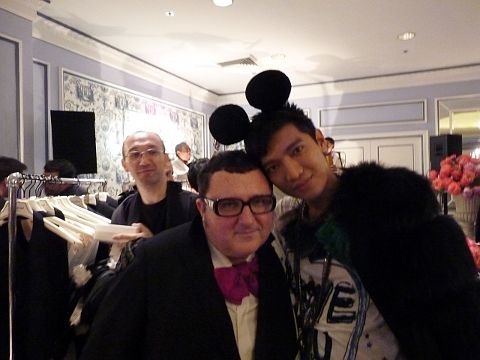 I shyly approached the maestro at the post-show private shopping event. All I wanted to do was to photograph him. However, the incredibly kind and gracious Alber insisted that I join him so I humbly asked one of the other chic ladies to take our photo.
I was surprised that he knows me. I was shocked when Alber told me he's kept track of how far I've come and how he's kept track of me from the earlier days of my blog. I don't know how I managed to stop myself from crying in front of him; I have always been a fan of Alber, his work and his undying love for the women who adore his creations. He creates not only fashion but dreams...
I saw him a few times throughout the shopping event. While queueing at the till, Alber was there again so I told him "look at what you're doing to people!", referring to the dozens and dozens of well-dressed fans and followers of his, going agog at the new Lanvin x H&M collection.
Alber, it truly is an honor meeting you. Thank you so much for making me (and thousands, if not millions of people) fall in love with fashion again and again and again...
follow me on Twitter