Register Now: Independent Fashion Bloggers Conference - Evolving Influence
Register Now: Independent Fashion Bloggers Conference - Evolving Influence
I, along with fellow online fashion enthusiasts Mattias Swensen of Bloglovin', Phil Oh of Streetpeeper, Yuri Lee of Lookbook, Gala Darling, Susanna Lau of Stylebubble, Amy Odell of NY Mag's The Cut, Emily Schuman of Cupcakes and Cashmere and my gurl Rumi Neely aka Fashion Toast will speak at the upcoming Independent Fashion Bloggers conference in NYC next week.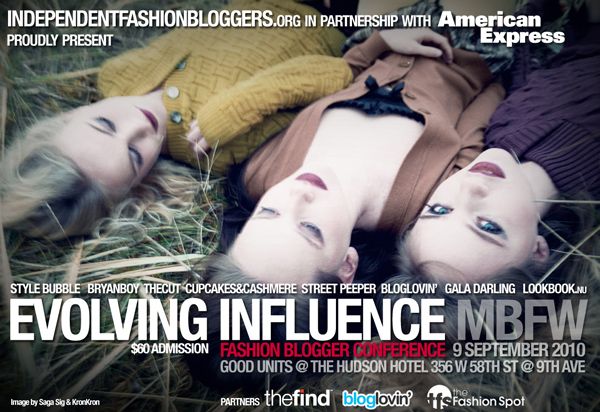 It's going to be held on September 9, 2010 at the Hudson Hotel, 356 West 58th Street, New York City. Registration fee is $60 and includes lunch as well as various goodies.
Click HERE for more information, including the full schedule, or to register.
I'm very excited and nervous at the same time because public speaking is not really my forte. Why do you think I have a blog in the first place? Ha ha!
We'll see how it goes... I'm gonna start working on my presentation sometime this weekend. I hope I do good this time around because I was the 'class clown' on last season's meet-up. ;-)
follow me on Twitter