Don't do to others what you don't want others do to you
Don't do to others what you don't want others do to you
This is quite funny. At the Damir Doma menswear show in Paris, me and my buddy Isaac of Isaaclikes.com had a laugh because someone stole my seat. It was this really, really tall ogre. I pointed to Isaac how big his feet were. When the guy wasn't looking, I asked Isaac to take a stolen snapshot of my sample-sized (that's model size 40/41 women's to you so if you have ferocious shoes, send them my way kthxbye) feet beside his supersized bonanza special.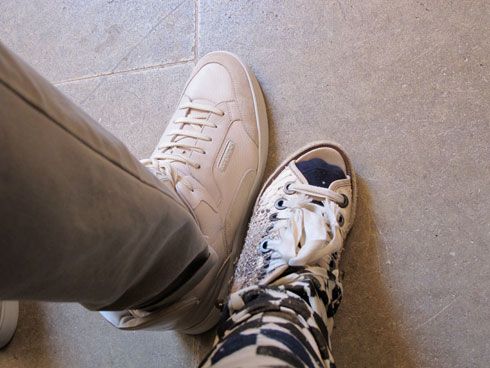 Fast forward a month and a half later, I received an email earlier today from a reader in Switzerland. His name is Adrien.
Bonsoir Bryan,

I did this video of your lovely shoes at Damir Doma's show on the 26th of June. They seemed very confortable! Then I saw you at Schwuz in Berlin, same shoes you weared, did you? You were busy on the dancefloor, but nice to watching you! you're very inspiring.

So, here at last I send you the video!

If your fashion instinct guide you to Geneva (Switzerland, who knows!) tell me, it will be my pleasure to show you the place.
So while Isaac and I were taking stolen snapshots of my fragile feet, there's this other guy taking a video and masturbating over my lovely Kenzo python wedges. Haha!
Like the old saying goes, don't do to others what you don't want others to do to you.
Oh what am I talking about, I'm a cam whore. I say bring it on haha :P
I kid, I kid you.
Thank you Adrien for bringing a smile to my face!

photo credit: isaaclikes.com
follow me on Twitter