Caption This: On The Front Row
Caption This: On The Front Row
A Twitter follower recently spotted me on this item at British Elle's Fall/Winter 2010 Runway supplement.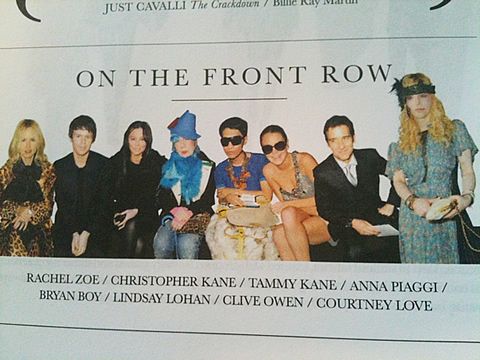 Rachel Zoe, Christopher & Tammy Kane, Anna Piaggi, Me, Lindsay Lohan, Clive Owen and Courtney Love.
How would you caption that photo?
"Sorry about the queue guys. The nurse will see you now, Ms Zoe. I hope you haven't been to the bathroom before you came."
Being mentioned in one sentence with Lindsay Lohan and Courtney Love can't be a good thing. Before you know it people will speculate on your substance abuse problem.
Did Clive Owen effectively just de-closet himself?
Clive Owen's dropped his standards, being seen in that lineup, it's not exactly Reservoir Dogs.
"I can make out a woman who looks rather like Halle Berry, but can't spot Bryanboy."
I just think it's amusing to be included in that list of boldface names... special thanks to British Elle for the lovely mention.

photo via: twitpic
follow me on Twitter