Carine Roitfeld's Dolce & Gabbana Dress
Carine Roitfeld's Dolce & Gabbana Dress
Oh snap! A very irate and condescending reader recently emailed me saying it's a faux pas to repeat outfits at events and questioned why I repeat outfits. Well, try losing your luggage and try not having a gargantuan clothing allowance. Don't we all wish we can buy anything we want and throw it away to the back of the closet after wearing it once?
At Dior Homme here in Paris, Isaaclikes took a photo of me and Carine (in a VA-Va-VOOM polka dot Dolce & Gabbana dress) sharing a laugh before the show.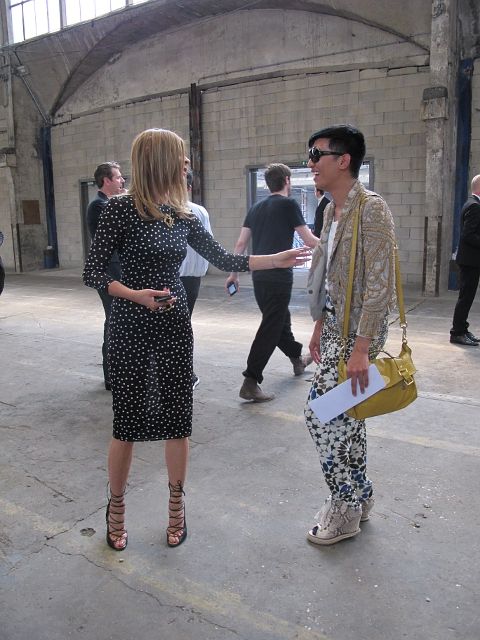 That Dolce & Gabbana dress is stunning, no?
Wind the clocks a week earlier, I took a photo of Denni and the fabulous Carine Roitfeld at the Dolce & Gabbana menswear 20th anniversary celebration in Milan.
Click click click!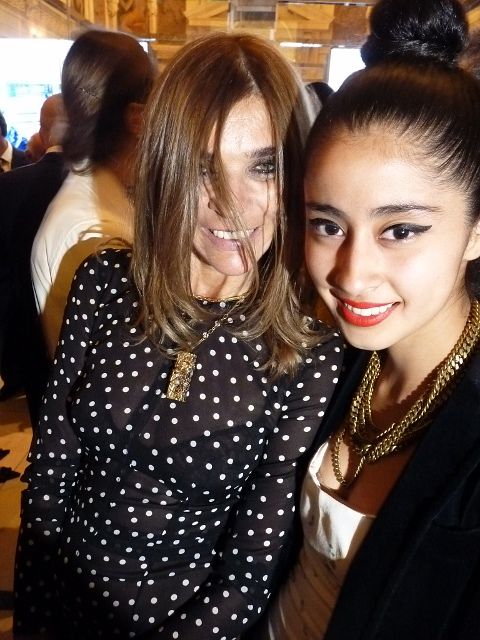 I love it when esteemed fashion editors, like Anna Wintour and Carine Roitfeld, repeat outfits. Both Anna and Carine are especially renowned for wearing the same outfits in four different cities during fashion week: New York, London, Milan and Paris. Would you question these influential ladies for their personal choices? They have access to every designer out there but they still repeat their garments.
I admire those who are able to 'keep up with the Joneses' by wearing things once. Good for them! If you can do it too, good for you. However, I don't find anything wrong with repeating. Why is it a sin to wear something that you love and adore over and over and over again? If you are a Hollywood celebrity or a well-photographed fashion icon with so much at stake, I can understand the point of not repeating outfits but if you are a third world non-entity, it would only make you pretentious, for the lack of better word.
To the reader who sent me the email, well, it doesn't require more than two brain cells to be an armchair critic these days but let me remind you (in case you missed the memo) that you're there and I'm here, in the battlefield. What can one do eh? Perhaps we should switch places... or maybe, just maybe, try to walk in my footsteps? I may not have the biggest clothing budget in the world and I may repeat clothes (to your disappointment) but alas, you will never, not in this lifetime, be in my shoes.
If you ask me, the biggest fashion faux pas is having the mentality that 'faux pas' still exists. Welcome to the 21st century my friends where anything and everything goes.

Just saying.
follow me on Twitter