Jil Sander Spring 2011 Menswear at Pitti Uomo 78 Florence
Jil Sander Spring 2011 Menswear at Pitti Uomo 78 Florence
As a special guest of Pitti Uomo, Raf Simons will show his spring 2011 menswear collection for Jil Sander on Thursday here in Florence. I've received my invitation earlier today.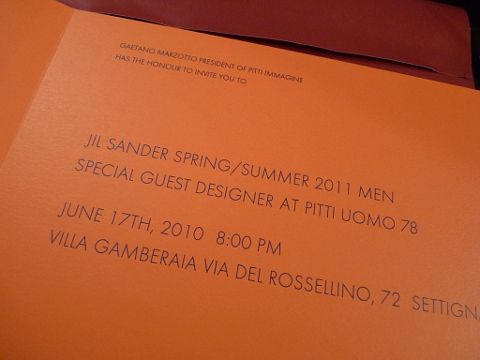 Jil Sander will also livestream their show at http://www.jilsander.com on Thursday, Jun 17 starting at 3:15PM US Eastern Time.
On a side note, I googled Villa Gamberaia, which is about 30 minutes away from Florence, and oh my lord, it looks beautiful.
Guests to the show are advised not to wear high heels due to an "outdoor location".
BTW, there's a garden party following the show.
I can't wait!
follow me on Twitter