Finsk Shoes by Julia Lundsten
Finsk Shoes by Julia Lundsten
When I went clubbing over the weekend, the guy who managed the door at Berns (aka 'the pointer' because he points at random people and decides who to let inside) seemed to be unfazed when I wore my glitter playsuit as I walked straight to the front of the queue. "Are those Finsk shoes?" he asked. "Yes," I replied.
Just like that, I was able to get into what I thought was the best club night in Stockholm. How he was able to see my black pony skin wedges in the dark remains a mystery to me.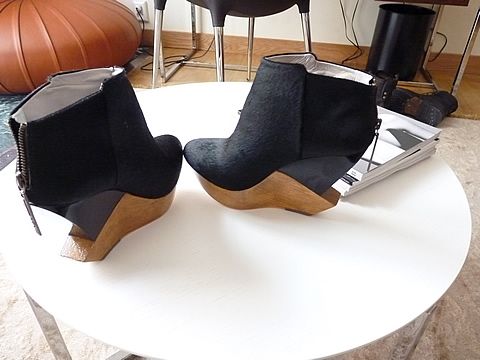 What I do know is that I fell in love with these babies the first time I saw them online. Even Women's Wear Daily recognized my obsession.
Ask yourself -- when was the last time you had that pulsating feeling? You know, that "oh my god, I really have to have it or else I would die" feeling? I consider myself lucky and privileged to be able to see beautiful things as part of my job. However, it's been a long, very long time since my poor precious heart pounded so hard. That's how I felt when I saw those Finsk pony skin wedges. Finsk designer Julia Lundsten is my fave shoemaker.
If you don't see me eat at nice places this month, I only have these shoes to blame!!! LOL. The price, I must admit, is a bit whack, but every single penny is worth it. They're incredibly well-made and super comfortable to walk in, in spite of the height. I recommend that you size up if you're thinking of buying a pair. It's a bit tight and narrow on the sole... they didn't have size 41 so I settled for 40, which fits me just fine.
Now go! They come in black and gray.
follow me on Twitter