Baggage Delay 2.0
Baggage Delay 2.0
Italia, we have a problem. It's like KLM all over again.
I recently sent my luggage via courier from my hotel in Stockholm to Florence for convenience and to save money from paying ridiculous, per-kilo excess baggage fees. I brought several suitcases with me because it's gonna be a very busy month and a half.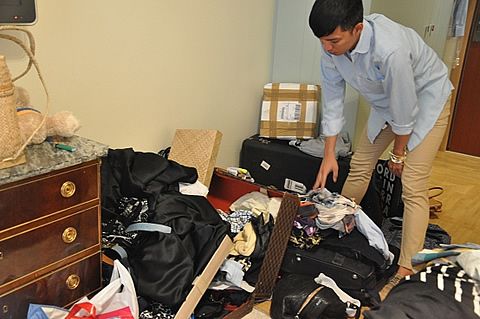 I called my hotel in Florence to see to ensure they've received my luggage safely and the concierge told me, nope, they haven't received anything for me yet.
I checked the courier's website lo and behold I found this:

Estimated delivery: June 14, 2010 - 8PM
My heart stopped. I arrive in Florence this Thursday, June 10. Why the long delivery time?
I picked up the phone and the courier told me that my bags are gonna be delivered to Italy by truck (aka Ground service).
Turns out that I selected "International Economy" instead of "International Priority" on the form and there's no way for them to change the service because the shipment already left the station in Stockholm..
How was I supposed to know International Economy is the land equivalent of the slow boat?
I can't believe it. With my current workload and schedule, I have no time for this BULLSHIT.
My clothes are there, my toiletries are there, 10 pairs of shoes are there, my handbags, my accessories, my glitter playsuits, my Finsk wedges and yes, my "never-leave-home-without" Sally Hansen airbrush legs are there.
I have tons of events from June 11 onwards. What to do, what to do?
Please refrain from being oh so predictable by telling me to 'shop' and buy shit. Money doesn't grow on trees! I'll shop if you pay my bills and wire cashola into my bank account.
Also, I have travel insurance but this is not covered because I sent my luggage via commercial courier not via commercial flight (ie. I didn't travel with it).
I need a miracle. That's what I need.
Now who wants to lend me clothes and shoes?
Please don't laugh at me when I show up in Nike trainers.
That's all.

photo credit: rodeo magazine
follow me on Twitter