Style.com's Greatest Fashion Blogging Moments
Style.com's Greatest Fashion Blogging Moments
Style.com, the grand-daddy of all fashion websites, just published a "Great Moments in Fashion Blogging History" list.
I must admit that personally, I feel like it's rather premature to do a 'blogging moments' retrospective considering bloggers have only been inducted to the big fashion machine a few seasons ago. It's like Justin Bieber releasing a 'Greatest Hits' album. We still have a long way to go. Every day is a new day... there's so many new things to learn, so many new events to experience to further hone our craft.
Nevertheless, it's an honor to be recognized, so thank you Style.com.
It's also very nice to see talented people who I consider friends make the cut.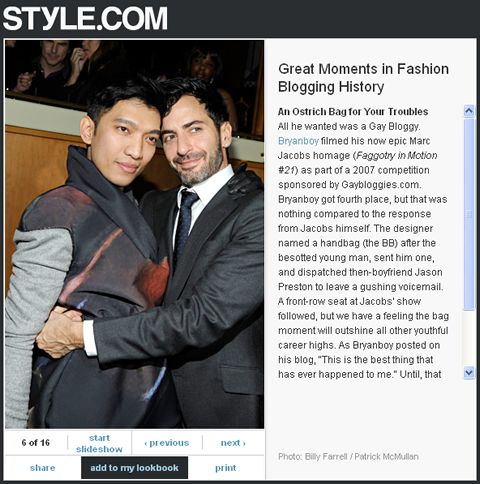 I'll never forget that moment at the Boom Boom Room, I mean, Top of the Standard whatever the current name is. Marc Jacobs and I exchanged hugs and kisses, then pointed to all the photographers in front of us and told me "Welcome to New York!" Surreal. Absolutely surreal.
And that photo of Tinsley Mortimer kissing James Kurisunkal? Pure gold.
Click HERE to read the feature.
On that note, I hope to make more amazing moments and milestones in the future.
And of course, I hope to get to share them to you my beloved readers.
Forward ho!
follow me on Twitter