RIP Marc Jacobs Sunglasses
RIP Marc Jacobs Sunglasses
Hu hu hu I'm so sad. Another city, another item lost. Excuse me while I mourn the loss of my beloved Marc Jacobs sunglasses. I've lost them in Singapore. I have a feeling I dropped it while watching one of the shows at the tents during Audi Fashion Festival.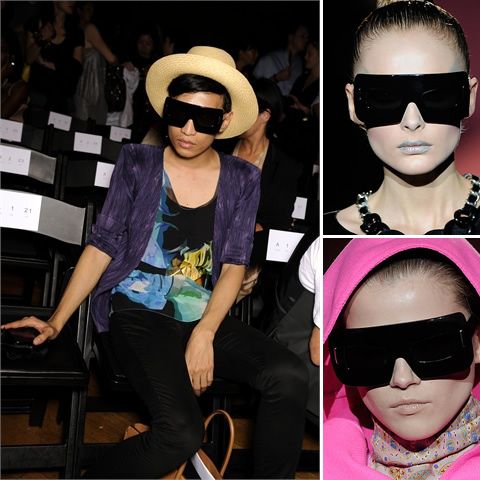 Front row at Marc by Marc Jacobs Spring 2010 in New York, Snejana Onopka and Kasia Struss at Marc Jacobs Fall 2009. All photos via Style.com
I always lose something precious every time I travel.
Forget the fact that I've lost my cellphone this Friday. It's the third time I've lost my phone this year. I've left it in a cab after a night out.
But yeah... Balenciaga glasses? Left it at a toilet cubicle in Narita airport en route to Detroit after a trip to Australia. Fox fur stole? Stolen by a thieving midget of a lesbian bull dyke in Plastic in Milan last year. Lanvin sneakers? Left it in Milan this March. I was on the verge of losing my Chanel bag when I got mugged in Paris last October -- it's a good thing the not-so-street-smart robbers were only after my money and not my bag which they could've sold on eBay. I guess they didn't see the resale value in that. Then there's a time when I thought I've lost my passport in Sydney airport because I spent my time going through duty-free fragrances, drunk! I left my passport AND boarding pass on a counter somewhere and I only found out about it when the boarding gate attendant handed it to me prior to boarding the plane -- not the other way around!
Click click click!
Oh yes, Marc Jacobs.
These glasses, aka "haterblockers" shielded me from many unpleasant haters, made me camera ready by concealing my wonky eyes, unkept eyebrows and hideous eye bags from appearing in photos.
Lord knows how many times I've received comments like "don't you have many other pairs of sunglasses?" or "maybe you should put it to retirement" or "do you only have one pair?"
Well, I believe that when you truly love something, there's nothing wrong in wearing it unabashedly to death. Whether it's a pair of sunnies or a piece of jewelry, a statement accessory like that becomes part of your identity. It completed my looks, it became... a part of me.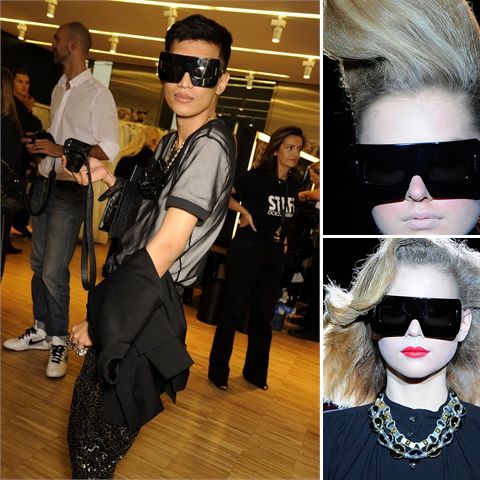 Backstage at Dolce & Gabbana Spring 2010 Milan, Anastasija Kondratjeva and Kasia Struss at Marc Jacobs Fall 2009. All photos via Style.com
I never leave home without oversized sunnies. I've traveled the world ever since I bought them in September 2009 and I always take them with me.
I've been photographed wearing them when I've met Mama Nay Nay Campbell and Rachel Zoe. Even the amazing Aliona Doletskaya, Editor in Chief of Vogue Russia, tried them on when we had drinks before the Marc Jacobs Spring 2010 show.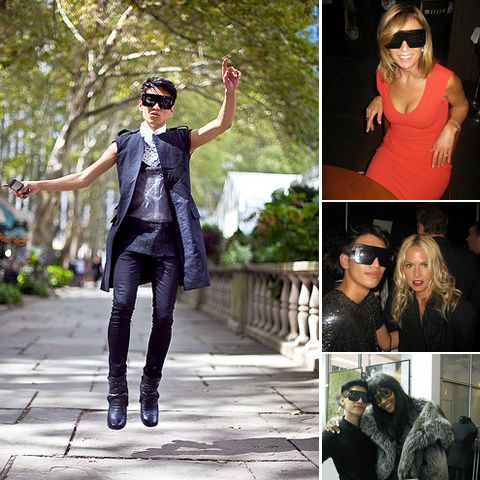 I think it's gonna be a long time until I find another interesting pair. Unfortunately, you can't buy them anymore because it's like 9000 seasons old, they're limited edition and they've sold out already.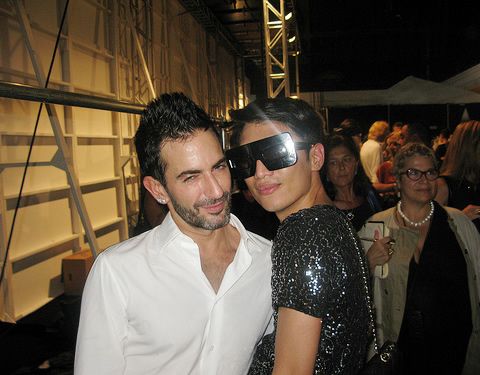 How sad, eh? There goes my $600. Down the drain, just like that.
But the many, many memories and the many, many pictures I've had wearing them will always be here forever.
Just sayin.
follow me on Twitter