MamaLiga Restaurant, St Petersburg
MamaLiga Restaurant, St Petersburg
Are you an adventurous eater? I am. There's more to life than having a ceasar salad or a club sandwich. I'm not talking about devouring insects or exotic genitalia but hey, no judgment if you're into that. What I mean is that I'm someone who likes to try things I've never had before. Me and my siblings were raised by my parents to try things at least once. On a side note, read this NY Times article.
I have my limits, of course: you won't see me eat insects, domestic animals and yes, genitalia though I once had sheep testicles in Iceland many years ago. Depending on my mood, I'll try it. Ostrich meat? Had it in London. Rabbit? Had it in New York. Frogs, snails, duck fetus (balut)? Done, done and done.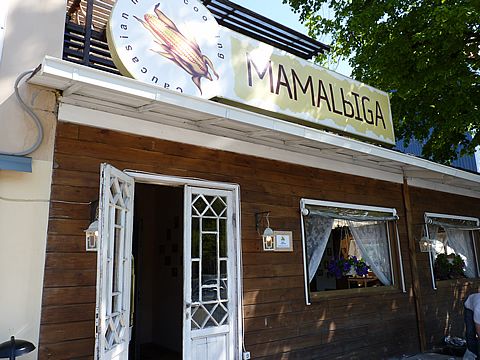 Instead of saying "no" when Alexey asked if I've tried Caucasian food before, I played devil's advocate and channeled the Debbie Dumber in me. "Caucasian food? What's that? White people food?" was my reply.
So after a disappointing and fruitless trip to a Russian flea market (I was hoping to see kitschy Soviet-era things and Russian antiques but I was greeted with Made-in-USA/Made-in-China second-hand cast-offs), we went to Mamaliga for lunch.
Click click click!
Caucasian cuisine, for those of you who don't know, is food that comes from the Caucasus region: Georgia, Armenia, Azerbaijan and parts of Russia such as Chechnya, North Ossetia etc.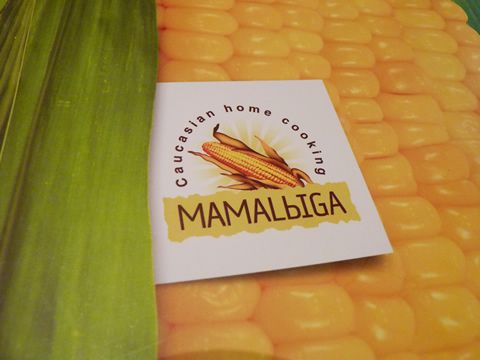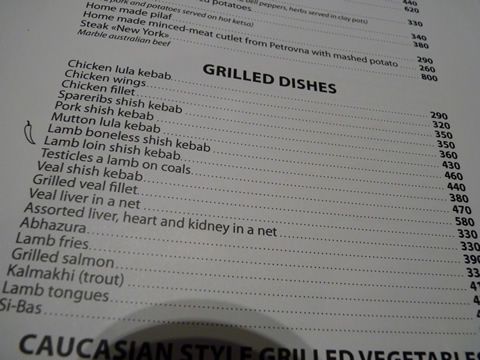 Dima having a go at the menu...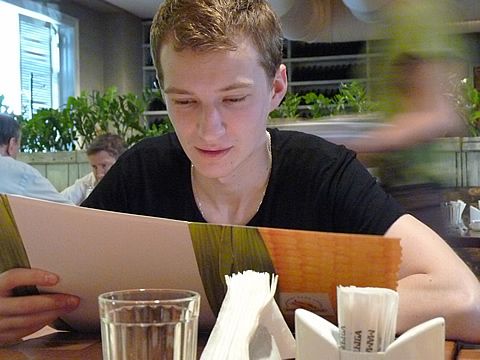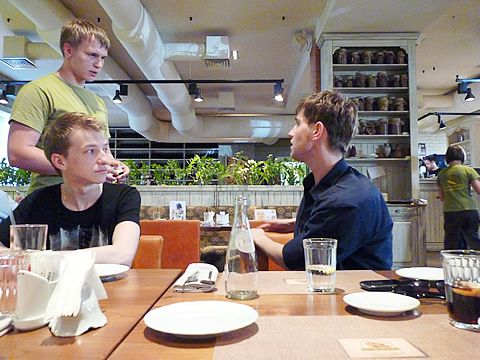 No more water for Alexey...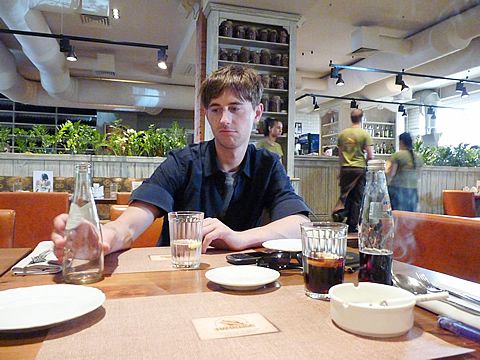 Tomatoes, peppers, garlic and stalk of some kind. This is very tasty and delicious.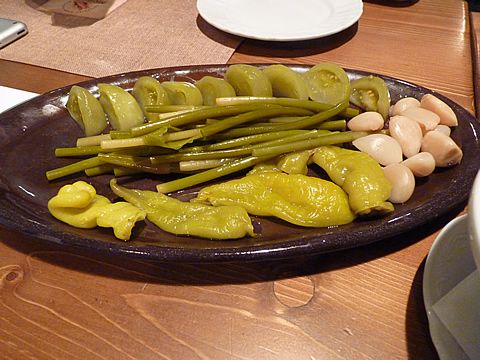 This tastes like cheese pizza for some reason.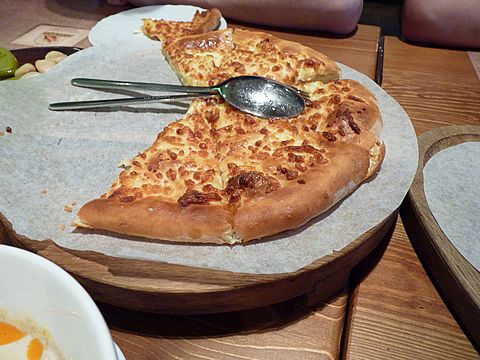 You take bits and pieces of this bread...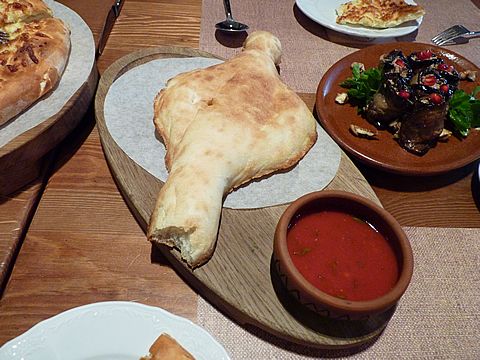 ... and dip it into this sauce.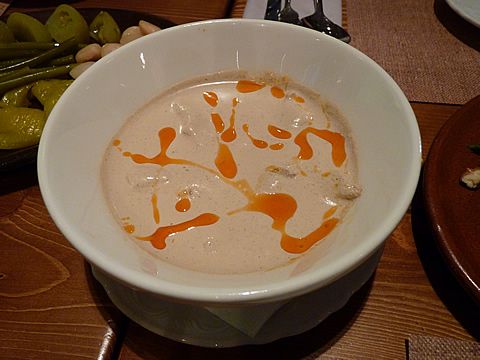 Ordered a tomato on the side after seeing other patrons order it.
Eggplant with stuffing of some sort.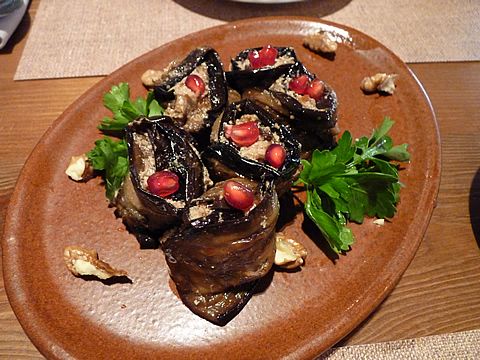 Soup! A meal wouldn't be complete without soup. There are morsels of beef in it.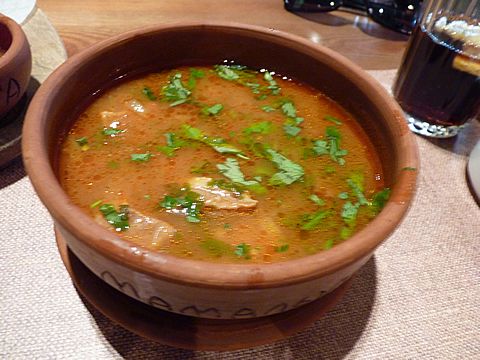 Granted, everything I had can be considered as safe and there's really nothing exotic there.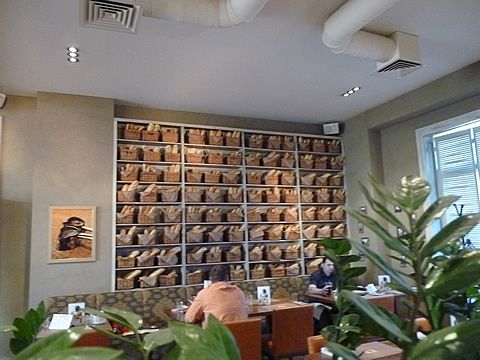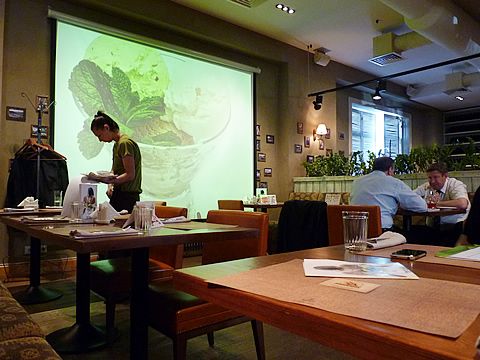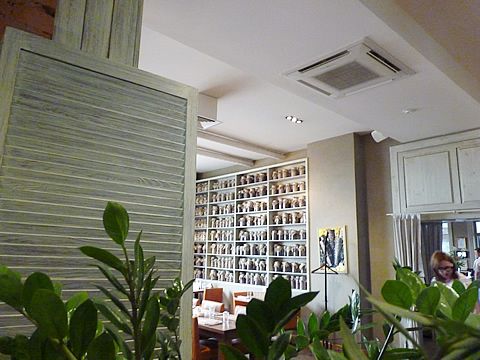 This is why I need my Sally Hansen Airbrush legs. Ignore the shadows (both table and me holding the camera). I don't like seeing my veins...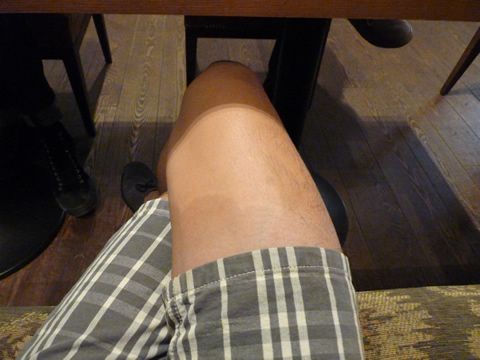 Saw this bird (parrot or parakeet?) on my way out of the restaurant. Soo cute!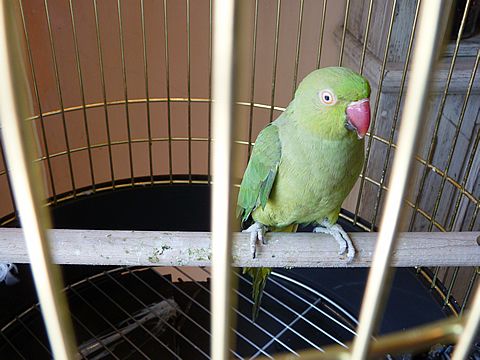 And there you have it. I'm so glad I tried Caucasian food!
Can you imagine? I could've easily went for Italian or Japanese or heck, McDonald's...
What a beautiful and very healthy lunch indeed.
follow me on Twitter