Karmic Retribution by KLM Airlines
Karmic Retribution
At long last, I've arrived at my final destination. Houston, we have a, no, Amsterdam, we have a problem.
They say bad luck comes in threes.
- Fourteen hour flight
- Sixteen hour layover
- Amsterdam Schiphol airport closed
- Connecting flight delayed by three hours
and now...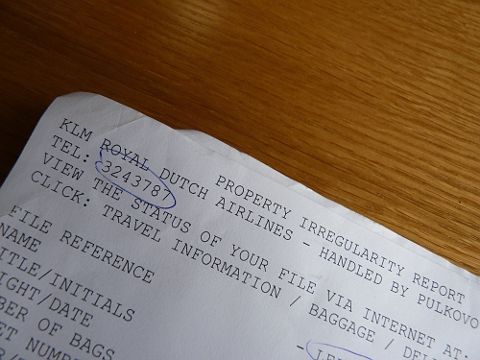 KLM LOST MY LUGGAGE!!!!!!!!!!!!!!!!

What did I do in my previous (I said previous, not present, ok? Haters gonna hate...) life to deserve this shit? Was a I murderer? Did I kill people?
All my clothes, my shoes, my handbags, my accessories, my printed Topman underwear - briefs with printed lips, my precious Sally Hansen Airbrush Legs are now gone. GONE. GONE. GONE WITH THE WIND GONE.
The day I used my Prada nylon suitcase (and not the Vuitton trunk) to scrimp on weight because of the bitch ass baggage allowance is also the day the airlines decided to do my head in.
Any chance of the powers that be at KLM Royal Dutch Airlines to help me out?
I promise I'll play nice from now on. No more dirty tricks.
No more "I'll bring a magazine with me on it and pretend I'm reading the page with my photo on it" to get the check-in counter girl's attention to give me an upgrade.
What's the point of "priority baggage handling" as a benefit of Delta Skymiles Platinum Medallion member/SkyTeam Elite Plus when KLM lost my luggage?
HELP!!!!! PLEASE HELP!!!
follow me on Twitter