Tavi Gevinson, Cathy Horyn, Bryanboy, Suzy Menkes, Jessica Michault, Christina Binkley, Tommy Ton, Susie Lau : Now Sit Down and Shut Up
Tavi Gevinson, Cathy Horyn, Bryanboy, Suzy Menkes, Jessica Michault, Christina Binkley, Tommy Ton, Susie Lau : Now Sit Down and Shut Up
Yes, that includes you Hilary Alexander, Rumi Neely, Lisa Armstrong, Garance Dore, Sarah Mower, Scott Schuman.
Before the collections began last month, the Wall Street Journal published an article about seating assignments at the shows. They also published this mock seating chart.

I have no idea what I was searching earlier but lo and behold I unearthed this priceless ancient relic from New York magazine published sixteen years ago. April 11, 1994 to be exact. NY Mag did a mock seating assignment of the Richard Tyler show -- the hottest ticket back then.
Get ready to be tickled!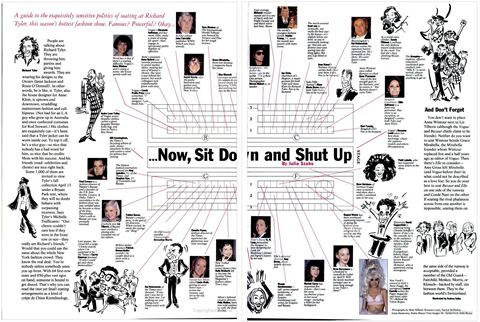 Click HERE to download the PDF file.
Who made it to the front row? A teenage newly-wed Drew Barrymore, Mariah and her entourage (some people never change), a young Stephen Gan and of course, Hal Rubenstein who once shouted "If you don't seat me in the front row, I'm walking out and taking every New York Times writer with me".
Hysterical, isn't it?
And what do we have these days? The old guard and the nouvelle vague in a tedious and predictable slanging match that is neither new, imaginative nor innovative -- supposedly the hallmarks of 'fashion'.
Oh the irony of it all.
Sixteen years from now, an eight year old kid will hark back to the days when some heiress or society wife would go to Worth, Poiret and Mainbocher to buy an entire season's worth of clothes including stuff to do her gardening in.
Or celebrities, footballer's wives and the twenty year old wives of Russian oligarchs snapping up Galliano for Christian Dior, Chanel Armani Prive, Gaultier or bless you, Elie Saab -- your choice.
He'll also send a message to his colleagues via mental telepathy with a screenshot of this blog entry (twitter, what twitter?), and he'll whine why a five year old girl received a CFDA nomination ballot while sitting front row at Joseph Altuzarra.
(Contrary what you all think, fashion shows are here to stay. We have livestreaming, yes, but what is there to stream if there is nothing to show?)
Can't we all just get along?
Just saying.
May god help us and may Suzy Menkes and Candy September is the January of fashion. "I made that designer; I can break him" Pratts-Price outlive us all through time and eternity.
Love you Candy!!!

photo credit: wsj.com
follow me on Twitter