Ricky Martin Comes Out of the Closet and Says He's Gay!
Ricky Martin Comes Out of the Closet and Says He's Gay!
HE'S GAY? WHO THE HELL KNEW? OH MY GOD!!!!! A MILLION PRIESTS WENT IMPOTENT WITH THIS NEWS. I'M SOOO SHOCKED!!!! MY JAW DROPPED AND MY WORLD IS ABOUT TO COLLAPSE NOW!
Not. Cue eye roll and fingers down my throat.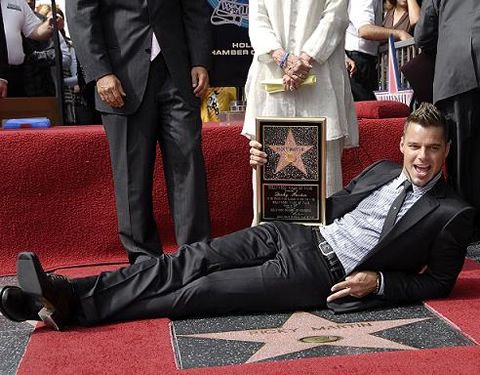 After many, many years of speculation, Ricky Martin confirmed what we knew all along and finally came out of the closet today. Why? Because he's got a book deal going on.... here's an excerpt from his blog:
A few months ago I decided to write my memoirs, a project I knew was going to bring me closer to an amazing turning point in my life. From the moment I wrote the first phrase I was sure the book was the tool that was going to help me free myself from things I was carrying within me for a long time. Things that were too heavy for me to keep inside. Writing this account of my life, I got very close to my truth. And this is something worth celebrating.

*snip*


These years in silence and reflection made me stronger and reminded me that acceptance has to come from within and that this kind of truth gives me the power to conquer emotions I didn't even know existed.

What will happen from now on? It doesn't matter. I can only focus on what's happening to me in this moment. The word "happiness" takes on a new meaning for me as of today. It has been a very intense process. Every word that I write in this letter is born out of love, acceptance, detachment and real contentment. Writing this is a solid step towards my inner peace and vital part of my evolution.

I am proud to say that I am a fortunate homosexual man. I am very blessed to be who I am.
- Ricky Martin
Boo! Hiss! What a big fat fraud. He only came out because he wrote a memoir and he's got a book to push. Seriously. Who would buy a Ricky Martin Memoir? I certainly won't. Perhaps you should ask William Hung.
In my world, there's a term for guys like that. GAY FOR PAY!
Call me when Anderson Cooper comes out of the closet to launch his dildo line. Thanks.
follow me on Twitter