2010 CFDA Fashion Awards Nominations
2010 CFDA Fashion Awards Nominations
Before I left for Milan, I was shocked when I saw this item on the February 23 issue of Women's Wear Daily:
BLOG THE VOTE: Tavi and Bryanboy could influence the next round of CFDA Fashion Award winners. For the first time, the Council of Fashion Designers of America is including bloggers in its voting process, having sent out nominating ballots to them as well as the usual group of CFDA members, editors, retailers and stylists.
New York Magazine and Women's Wear Daily contacted me about it so I told them, well, I haven't received anything from the CFDA. I was literally waiting for my flight to Milan at JFK when I spoke to WWD for a follow-up:
OPEN TO BLOGGERS: Every year the CFDA Award winners are chosen by a panel of CFDA members, stylists and editors. This group expands every year, and in 2010 will incorporate a select group of key fashion bloggers. Steven Kolb, executive director of the CFDA, feels their inclusion is simply a natural progression. "We've been doing the CFDA awards for 28 years, and how we did it then is different than what we do today. We're always evolving, always trying to be current, [all] without ever compromising the legitimacy or the integrity of the CFDA," said Kolb. He declined to comment on whether Tavi Gevinson and Bryanboy are of this qualified group, explaining the committee of voters will not be revealed to the public until the award ceremony June 7. To be considered for a spot on the committee, one must have "a general overall presence within the industry at the New York collections" and be someone who "has demonstrated an individual perspective…[and] is genuine and understands the industry."

Bryanboy, for one, has yet to receive notification of any kind from the CFDA. "I haven't received a ballot…but if they invite me, it'd be an honor. I respect the CFDA and I'm excited that they're including bloggers."

The rumor of involvement in the CFDA vote, in combination with frequent e-mail communiques and invites from major design houses, led Bryanboy to state: "It feels like a sea of change [in the industry]."

This isn't to say every fashion-phile with a Web address should expect an invite. Kolb was sure to stress, "This is not a unilateral invitation to every person who's blogging about fashion."

Fast forward to the present... I guess I spoke too much cack a wee bit too soon. It seems that my spam folder ate my notification. The CFDA sent me a follow-up email yesterday (why I haven't sent in my nominations) so today, March 6, 2010, I sent my nominations online.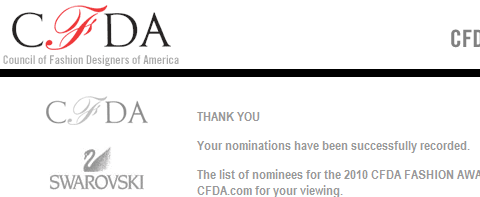 This year's nominees are to be revealed on March 17, 2010 so tune in to www.cfda.com.
I'm very excited!
As a blogger and fashion enthusiast, it's an honor to be part of the nominations and voting committee.
Thank you so much to the Council of Fashion Designers of America for recognizing our voice.
follow me on Twitter