Have you looked at yourself in the mirror lately?
Have you looked at yourself in the mirror lately?
Just wondering.
I'm quite stumped as to why my recent call-to-action post about helping Haiti would ruffle a few feathers.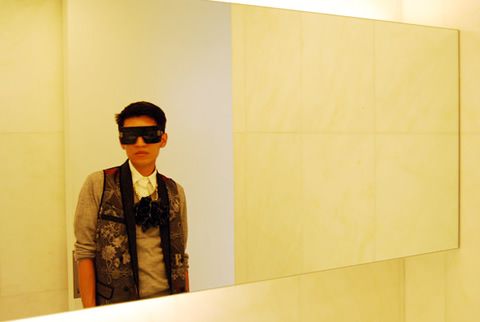 Me at the D&G showroom in Milan, September 2009
A few Filipino (who else) readers emailed to express their disappointment how I blogged about helping Haiti (whose death toll, according to Reuters, may hit 200,000) and I didn't blog about the time when the Philippines went through two major storms in September of last year, especially typhoon Ondoy (whose death toll reached 337 based on a report dated October 9, 2009).
Click click click!
The passive-aggressive insinuation that I didn't care about the disaster that happened in the Philippines (based on the simple fact that I didn't blog about it) is, not only unwarranted, but also highly offensive.
When the big storm in the Philippines happened, I was in Milan for the Spring 2010 womenswear shows. I can't remember exactly when I first heard of the news about the flooding and the devastation but I do remember being on the 2nd row at Roberto Cavalli, behind Carine and Emmanuelle, and sitting beside the talented stylist Patti Wilson. At that time, all I had was internet access and 1 euro left on my prepaid Italian cellphone. A friend from Australia told me the news on twitter and as much as I want to call my family back home, I couldn't. Not only the show was going on, I also didn't have enough credit on my phone. I had to ask the said friend in Australia to check on my family to see if they are ok or not. Thankfully, my family and loved ones were ok.
Can you imagine the head fuck I was going through? There I was, in Milan for fashion week, chasing my childhood dreams AND trying to make a living... then I hear terrible news about what's going on at home.
In light of the said tragedy in the homeland, I participated in generating awareness on Twitter for a few days -- sep 26 (here), sep 27 (here), sep 28 (here), nov 12 (here), amongst others. I also donated online the most that I can with whatever little that I have. But do I need to make the world aware of it? No, of course not. I'm only bringing it up now as part of conversation.
Was I supposed to literally drop everything that I worked VERY HARD (and continue to work VERY HARD) for? The most sensible option, to me at least, is to acknowledge what was going on and contribute to the best of my ability. Now I didn't blog about the situation back then because, at that time, I wanted to stick to my blog's DNA of being a fun, easy, light-read. Other web sites already provide excellent coverage of not just news from home but also world events.
Bah. I find nitpicking the past as truly, utterly IRRELEVANT so let's move to the present.
So why did I blog about Haiti? What makes it different considering it's another disaster somewhere in the world that's far from home? Well, I've spent most part of this week bed-ridden because I was sick so I ended up tuning in to CNN. I've been following all these horrifying reports in Haiti. Case in point, the story of this 11-year old girl who was trapped under rubble for two days, freed and rushed into a first aid station, but died within hours because the first aid clinic couldn't handle her.
Being exposed to this, and many other tragic stories, made my heart bleed. It's depressing.
And here I am, in spite of its imperfections, but in an extremely lucky and safe position, wanting to help even more. Hence, I went against the grain and decided to blog about it.
Now. Should one write off my feelings of compassion for Haiti because I have time in the world now compared to when I was in Milan? Last I checked, no matter how big or small it is, compassion is compassion. It comes from the heart and soul.
I digress.
Because my compassion is being challenged here, the $64 million question is: Haiti and Philippines aside, would it be any different if I were to go against my personal attitude towards giving and instead, I chronicle and of course, deliberately publicize every time I get affected by a natural disaster or every single unselfish and charitable deed I make, only for the sole purpose of looking good in the eyes of others and to appease the naysayers?
Maybe someday when I become very famous or very infamous, I'll figure out a way to cash in and turn my colourful life into books *and* blockbuster billion-euro (the dollar is a joke these days) movies. When that happens, I guarantee you I'll pull a Gisele and send a press release that I generously donated $1,500,000 to go to relief efforts. Because, you know, like, oh my god, like, that's how I roll, and like, oh my gosh, I like it when everyone knows I do good.
Oh dear.
Mirror mirror on the wall, what do you think is fair to me and to all?
As always, answers on a postcard.

photo credit: paolo z

follow me on Twitter