Anna Wintour Flexes Her Muscle While Carine Roitfeld Plays Second Fiddle in Her Own Turf
Anna Wintour Flexes Her Muscle While Carine Roitfeld Plays Second Fiddle in Her Own Turf
On January 25, Anna Wintour, Carine Roitfeld and the French Industry Minister, Christian Estrosi, had a meeting to discuss the future of French fashion and what the French government can do to help the (struggling) fashion industry.
Oh how I laughed when I first saw these images. This is what happens if you put Bill Clinton, Monica Lewinsky and Hilary Clinton together. Look at their body language... and look how Carine graciously distanced herself from Anna and Christian.
A brilliant display of power (Anna) and sportsmanship (Carine) right there!
Dramalamama, aye caramba Anna Carinnenana. Doesn't it look like a scene out of a movie? You know, a man, his wife and a mistress? I'll let you decide who's the apple and who's the orange but lady number one looks immaculate in her well-fitted suit, her luxurious chinchilla fur collar and of course, her impeccable coiffure -- not a hair out of sight. Meanwhile, lady number two is one sexy, hot cougarlicious mess: striking zebra coat, ferocious trademark raccoon eyes and matching brothel hair.
Upon further thought (yes, I know it doesn't happen very often but unfortunately for me and you, I *do* like to exercise my brain from time to time to burn calories), I realized these photos represent a very bittersweet state of affairs. I could only imagine how intense, and to a certain extent, how embarrassing, it must have been to Carine that Mama Wintour is taking proactive measures -- in her own turf.
Click click click!
According to Reuters, Anna personally called for a meeting with the French Minister in order for her to share her views about the fashion industry.
It's amazing how this power trio meeting happened.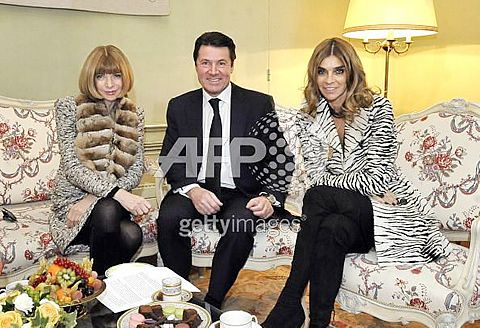 Where's Mademoiselle Agnes in all this?
Some of you might remember what Anna said last October at the Loic Prigent documentary, Habillees.
I think it's totally important for all of us in the American fashion industry to support the young designers, and I think that's why New York's become such a vibrant fashion center, because people go there not only to see the Donna Karans of the world but a whole new generation. I'm just so sorry that there isn't something like that in Paris that's similar. I think that they should look for the younger generation here [in Paris] as well. Not only New York but London really supports their young talent; Franca Sozzani at Italian Vogue supports the young Italian designers, and I think when France is so known for its fashion industry — for them not to be reaching out to help younger people today is really a shame. [Agnes: "And there's space in your pages for them."] There's space in everybody's pages.
Now don't get me wrong. I love Carine Roitfeld. Not only she's influential and highly-respected in the industry, she's also incredibly charming and genuinely charismatic. Lord knows how many times we've crossed paths. She's my hero! (Ok, Aliona Doletskaya is my hero but still... haha). Anyway, I've met Carine a handful of times and she's always smiling, plus, she's always game for photos. And her work in her magazine, no doubt, speaks for herself. She's the queen of cool, hands-down.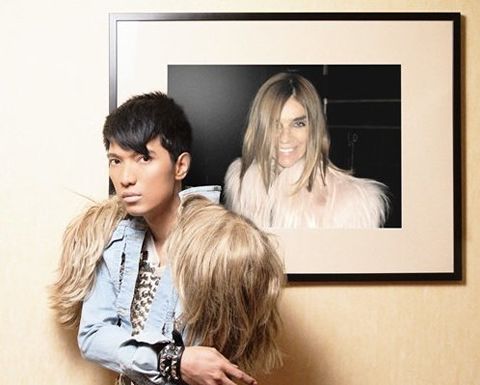 However, when all is said and done, how many (young) French designers' careers have flourished to stratospheric heights (other than Christophe Decarnin, or not necessarily French but, Riccardo Tisci at Givenchy) during Carine's tenure at Vogue Paris? Has she used her power and influence to build, mentor and nurture young Parisian designers?
For the sake of French designers and the industry as a whole, it's fabulous that Anna's taking the initiative.
I think it's time for Carine to step her game up.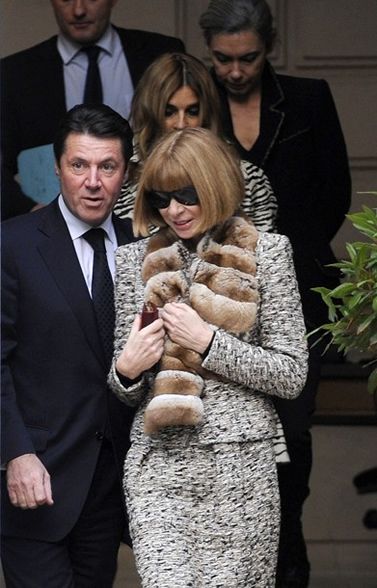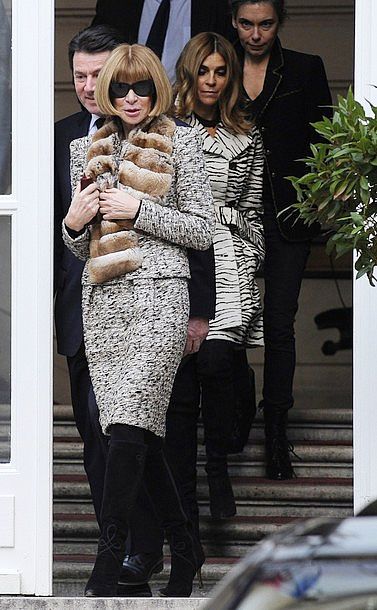 Last, but not the least...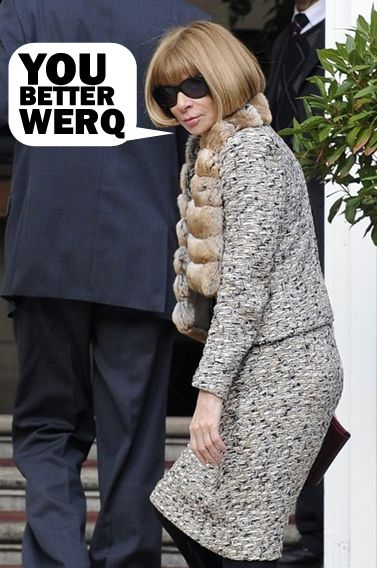 And Virginia Smith?
That's all.
Mwah mwah.

photo via afp, daily life

follow me on Twitter