Roberto Cavalli Jewelry
Roberto Cavalli Jewelry
One of the things I've learned over the years is that some of the best things to buy on sale are things that you can see yourself use over and over and over for years to come: jewelry, shoes or clothing "classics" (such as cashmere sweaters, shirts) etc.
I'm currently browsing the Vivre sale... and I'm loving these bits and baubles from Roberto Cavalli.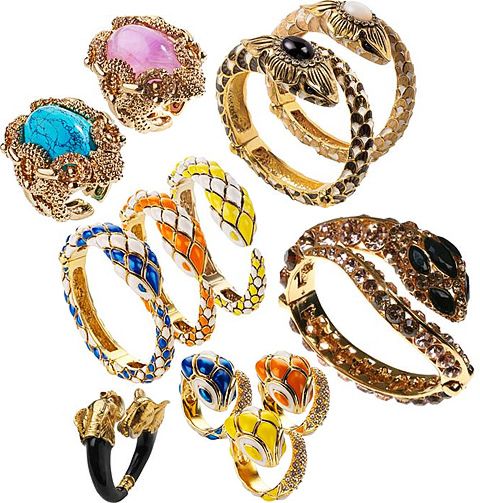 Roberto Cavalli cabochon octopus rings ($335 now $164) with turquoise or amethyst, enamel serpent bracelets ($350 now $98), bi-color enamel snake bracelets ($455 now $159) in blue, orange or yellow, crystal-studded jeweled snake bracelets ($435 now $121), bi-color enamel and crystal snake rings ($255 now $71), elephant head bracelet ($700 now $280).
Click HERE to visit the Vivre sale. They have little nifty things from Kenneth Jay Lane, Erickson Beamon and more!

photo credit: vivre
follow me on Twitter