It's a Wrap!
It's a Wrap!
Home sweet home. Just got back a few hours ago here in Manila. I'm done with the traveling this year. 2009 brought me to so many countries: Australia, China, Hong Kong, Singapore, Japan, Malaysia, United States of America, Netherlands, Germany, France, Italy, Austria, Switzerland, Russia and Qatar (well, it was a stopover lol). I was supposed to go to Hong Kong this week but I'm gonna resched that trip. I find it interesting because not to long ago, I'd be lucky to go overseas like twice or thrice a year. Now I only have several empty pages left on the new passport that I just got in October of last year, my Canon G9 got smashed and lastly, my Globetrotter suitcase gave up on me. Yikes.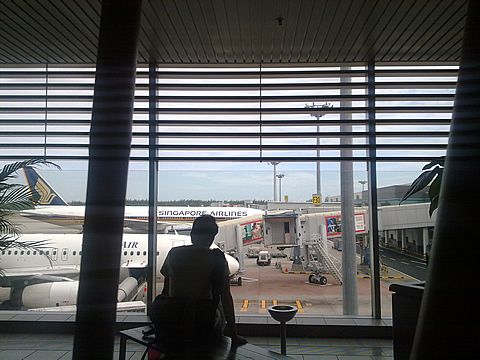 View from the smoking area at Singapore's Changi Airport
I know I sound like I'm complaining but really, I'm not. All I'm saying is that I'm exhausted and drained. It's not fun having bloodshot eyes constantly. The first thing people say when they see me is "are you ok? you look tired". Not good. I know lots of people have crazier travel schedules compared to mine... I wonder how those jetsetting queens:
a) remain on top of their game
b) keep being productive
c) still manage to look immaculate all the time
I need time to recover and lift my spirits up.
I hope I get to travel to even more places next year. I love traveling so much and I also love meeting people. The world is so big and there's always somewhere new to discover.
But I need to start taking myself, both my health and my financial health, more. 
With that being said, the traveling might be over (for now) but my super backblogged work only just begun.
Higher and higher and higher, higher and higher and higher!
follow me on Twitter