Corduroy Skirts are a Sin!
Corduroy Skirts are a Sin!
Chris Pesto, a student from Syracuse, NY, made this funny poster in retaliation to those homophobic bible-thumper protesters from the Westboro Baptist Church. This photo brought a smile to my face.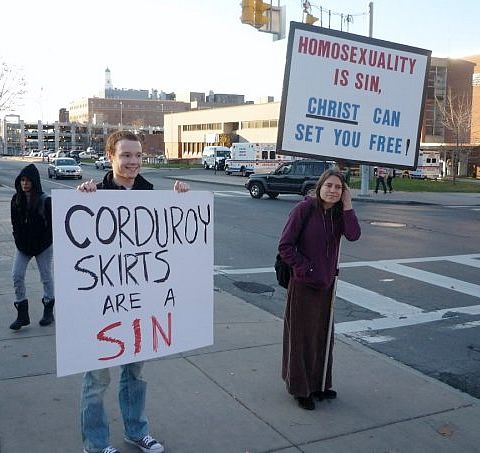 This woman was wearing a ankle-length corduroy skirt, which, as we all know, is a fashion nono. So, in order to make her feel uncomfortable, I stood next to her and held a sign that said Corduroy skirts are a sin! I don't think I have ever drawn so much attention in my life. SO many people asked to take a picture with me, I got laughs, high fives and there were the few that even cursed off the woman standing behind me.

As I drew interest to what was going on with myself and the woman with the hateful sign, I started to draw a crowd that stood with me in support. Before I knew it I had 100+ people holding signs for gay rights asking people to honk their horns to support. I was interviewed by a news station, and more than 5 student organization papers, and the post standard of Syracuse.
Good on you honey for using fashion to make difference in this world. Thank you for the laughs.

photo credit: thefbomb via boing boing
follow me on Twitter