Upper East Restaurant Makati
Upper East Restaurant
There's quite a bit of internet buzz surrounding Upper East, a new restaurant in Manila.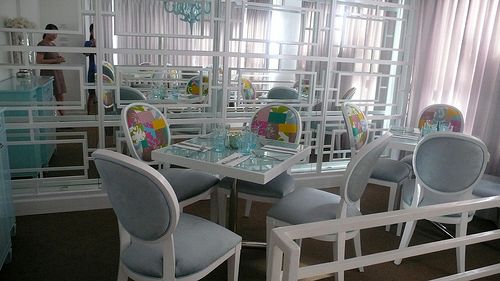 Check out their website. For curiosity's sake, I'd like to know who's responsible for the incredibly hilarious write up. 
"A word to the wise: UPPER EAST is not for those sans chutzpah and those unwilling to pay for the price for a taste of New York style."

"Just don't expect to dine whenever you want to."

"After all, UPPER EAST is not always open for business. We close our doors when we want to, and we certainly won't wait around for guests who, frankly, need to get a move on. No lunch is served after 1 p.m. and no dinner after 9 p.m."

"UPPER EAST is not for the weak of heart. Expect to be serenaded, as you sip your wine and savor every bite of your meal, by the screaming and ranting of our compulsive Executive Chef for whom incompetence is a crime, set against a sonic backdrop of AHA students sobbing and scrambling to do his bidding."

"UPPER EAST is not for scrooges and stiffs. We tolerate sharing, although it's not exactly de rigeur, is it? As for splitting? The fine is set at P250, not including our wait staff looking down their noses at you."

"This is the UPPER EAST experience. And this is the price you pay... if you can get in."

I bet this is a pisstake. I'm no internet marketing novice (in other words, I'm not new to attention whoring) and this smells like a viral marketing campaign to me.
Whoever made that write-up deserves an award. Hysterical!
A friend said it best on twitter: "I don't think we could have written anything more pretentious if we tried. Really hard. And were draped in fur while doing it."

photo credit: daphne osena-paez

follow me on Twitter