Scott Schuman's Hand
Scott Schuman's Hand
I giggled when I saw these photos from Dolce & Gabbana. We had a little photo op after chatting with the lovely Domenico and Stefano post-show.
Keep an eye out for Scott Schuman's hand. Soo adorable LOL.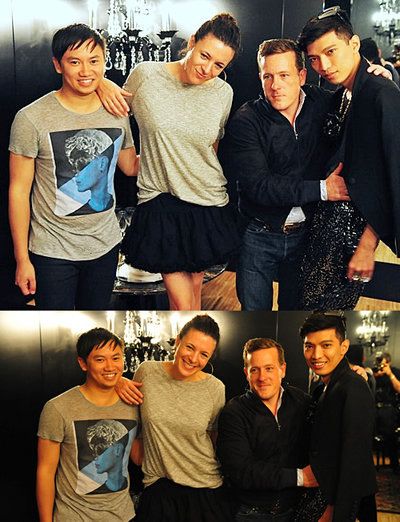 Oh to be felt up by a superblogger.  Is he touching my bloated tummy for good luck?
GAYSIAN BUDDHA BUDDHA BOO IS DAT ME CHU? Bing bing bing!
You know, there are people in my country seriously worshiping the ground he stands on. I think I've read a newspaper article a few weeks back by an over enthusiastic local writer who chronicled a big song and dance about meeting him in New York, queuing in line to get an autographed copy of his book... and if I remember it right (feel free to correct me), she explicitly wrote that she arrived there first but she ended up being second in line. Or something like that. So there. He's big in Manille. Heck, he's big everywhere!


photo credit: dolce & gabbana
follow me on Twitter