Net-a-Porter & Fashion Blogs
Net-a-Porter & Fashion Blogs
Natalie Massenet, the amazing woman who founded luxury online retailer Net-a-Porter, answered my question at the International Herald Tribune Techno Luxury Conference in Berlin today.
According to Natalie, fashion bloggers and affiliate sites contribute to 5% of their sales.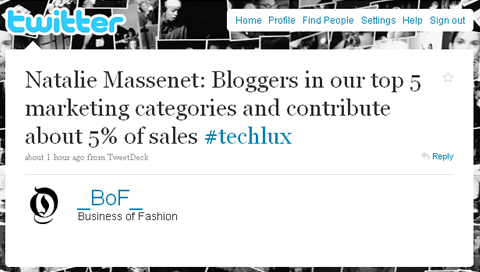 The Financial Times reported Net-a-Porter's 2008 revenues at £81 million or approx. US$134 million. Five percent is US$6,700,000 in sales alone. Amazing eh?
I honestly thought the percentage would be much higher than 5%... but... it's good to know.
Meanwhile, thanks to Oli of Wednesday, THIS brought a smile to my face.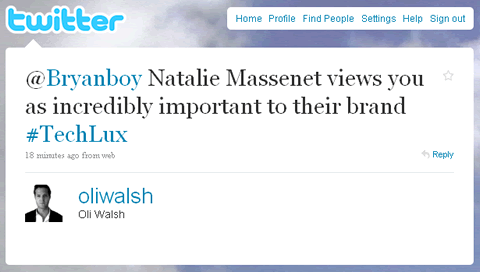 Thank you so much Natalie (via the IHT and Business of Fashion) for answering my question.
I wish I was in Berlin right now. There's lots of interesting revelations today, especially from Christopher Bailey of Burberry.

screenshots via twitter
follow me on Twitter