Nokia DiscOVIries Contest Update [for philippine residents only] - Week 3
Nokia DiscOVIries Contest Update - Week 3

[contest sponsored by ovi by nokia philippines]
Now that fashion week season is over, I finally a) got my poor old laptop fixed and b) have time to catch up with work. Remember my lil' contest? Well, congratulations to Celina Dayacap who submitted her "In a crowd, I stand out" entry and Flip Guangco for his "Jacob's Shawarma" photo. Both of you are my Week 1 and Week 2 winners. Keep an eye out for your email with prize information.
Since it's Tuesday today, let me announce this week's theme: Halloween!
Some of my old readers with good memory might remember this shot of me four years ago. *cringe*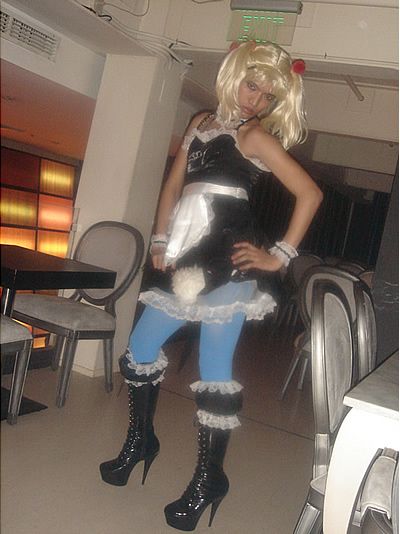 Now all you need to do is to post pictures of YOU sporting a funny Halloween party outfit -- it could be an old photo or a new one -- into Nokia OVI on or before Sunday, November 1.
To join the contest:

1. Create an OVI account and activate your OVI email address
2. Once you have your OVI account set-up, upload your photo entries photo on this special OVI folder.
3. Be sure to include your name, your OVI email address and a short description of every photo you upload.
4. You may submit as many photos/entries as you want as long as it matches the theme, in this case, HALLOWEEN.
5. You must own the rights to the photo.
The entry I like the best shall win a P2,000 Ayala electronic gift check. Deadline for this week's contest is this Sunday, November 1, 2009 so submit your entries ASAP.
Again, this contest is available to residents of the Philippines only.
follow me on Twitter