Daphne Guinness at Gareth Pugh
Daphne Guinness at Gareth Pugh

Ask me who I think is the most ferocious and best dressed woman of our time and the answer I'll give you is no other than Daphne Guinness, hands-down. She went to the Gareth Pugh show early like the rest of us and she was just there, waiting by her chic self, occasionally chatting to random fashion pundits.My friend Rene tried to take pics of Rihanna when she got there but I had my eyes glued on Daphne. When Riri left, I grabbed Rene and asked him to come with me because I need to meet Daphne Guinness.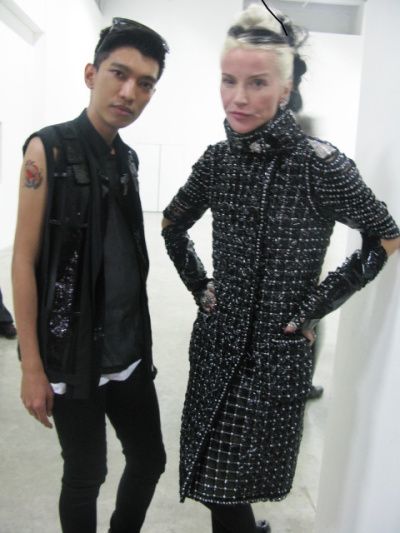 Well, what do you know... Daphne is not only very approachable, she's also very gracious and very kind. We chatted for a few minutes and she even joined us on the queue... I politely told her "but you're Daphne Guinness, you should walk right through!!!" and she cheekily said something how them English folk like to fall in line LOL. I adore her. I love her. LOVE as in LOVE. I even touched her plastic coat!
I was this close to telling her "OH EM GE DAPHNE CAN I SPEND A DAY OR TWO IN YOUR HOUSE AND ALLOW ME TO RANSACK YOUR WARDROBE SO WE CAN PLAY DRESS UP IN YOUR COUTURE?" but alas, I've only just met her so I need to behave.
But... can you imagine how much fun we'll have if that happened?
follow me on Twitter