Kim Jones, Cole Mohr and... Bryanciaga!
Kim Jones, Cole Mohr and... Bryanciaga!
KimMohr'a Bryanciaga is dat chu?
Two of my favourite men in fashion, my beloved Kim Jones and of course, male model superpower Cole Mohr, joined forces Friday night over a pair of some fierce Balenciaga shoes. This brought a major (and much-needed) smile to my face when I hauled my ass out of bed earlier this morning. Thank you :-)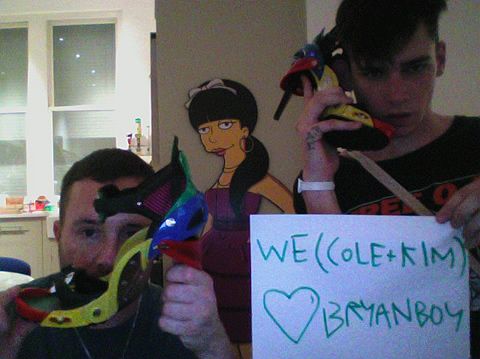 Why am I not *THERE* to wear those Bryanciagas?
Hope to see you guys soon!
Meanwhile, I know I haven't updated recently because I've been on the road EVERY day for the past few days. In fact, twitter is my only connection to the online world! If you're not following me, do so now -- http://www.twitter.com/bryanboy.
It's almost 2PM and I'm already late for 2 fittings. Will try to post moar when I get back.
follow me on Twitter