Nokia N97 + New Phone Number
Nokia N97 + New Phone Number
I've been living off one of them cheap disposable phones for a few weeks now because I couldn't decide which sort of proper phone I should get -- a blackberry, an iphone or a new nokia. Well, the iPhone 3Gs won't come out for a few more days here in the third world and I've been itching for a new phone. After two weeks of deliberation (what deliberation), I bought myself a Nokia N97
.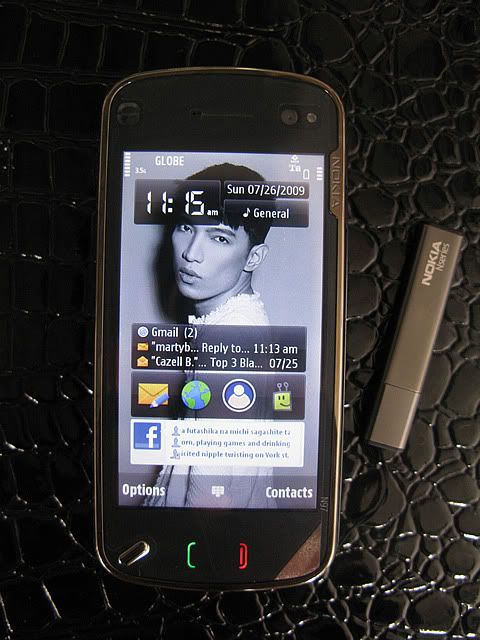 I love my wallpaper! Before you slam me, who else would I put there? YOU? Kate Moss? My mother? Your mother? Think about it.
I've spent the past three days customizing EVERYTHING. Changed the wallpaper, ring & text message tones (hence the Anna Wintour set), installed tons of software, email, facebook and twitter apps, uploaded some of my mp3s and videos.
It's a lot of work but a gurl's gotta do what she has to do... which is why I haven't done anything at all last week. Seriously. It took me a huge chunk of time "training" this thing and if some nasty French thief tries to steal my baby away from me (like what they did to my poor e71 in Paris), rest be assured a baby unicorn will die in her sleep.
Now the $64 million question is... am I gonna cover the thing with Swarovski crystals? The answer is no. I don't want my new baby to be the JonBenet Ramsey of the mobile phone world so no, no Swarovski crystals for me.
My new (public) number is: +63.927.350.7453.
To all my contacts, please pop me a note with your name so I can put you on my address book. I don't have everyone's phone numbers on my (old) list.
Also, please disregard my previous 915 cellphone number. I do have a private number but that's for me, friends and family.
Thanks!
follow me on Twitter