Cheap Thrills at Urban Outfitters
Cheap Thrills at Urban Outfitters
I'm desperate for cheap thrills so I paid Urban Outfitters a visit (cheap thrills my ass... cheeeeeeep is the only thing I can afford right now, thank you very much) and bought a few things: women's Dr Martens patent leather 14-eye boots, BDG super stretchy sateen cigarette pants in black and men's two-tone suede oxford shoes which I got on sale.
I particularly love the Doc Martens boot. Thank GOD they carry size 10 women's. Unlike the usual docs which have the horrible yellow stitches, these ones have black stitching and the shape is nice, too.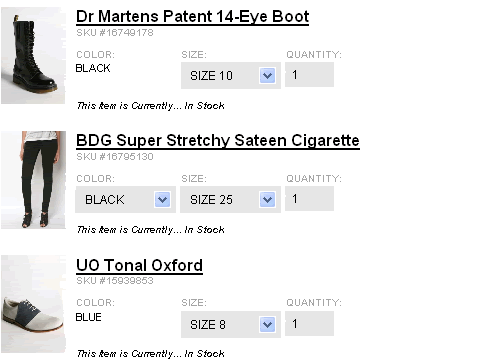 There's HEAPS of items ON SALE... they have "under $9.99" and "under $30" sections both for men and women worth checking (though I didn't find anything interesting for me). Perhaps you'll find something there? I love Urban Outfitters!
follow me on Twitter