Suicide Watch
Suicide Watch
This is what happened at the salon yesterday afternoon.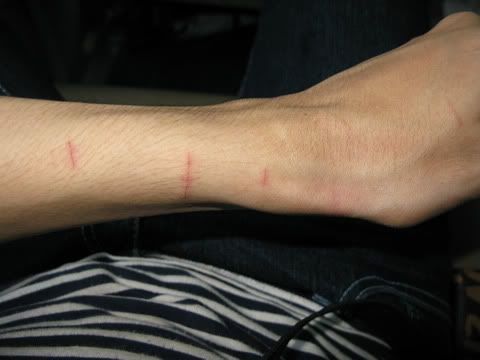 Two minutes into the head massage, boom outta nowhere...
Shampooist: Sir, huwag po kayo magagalit sa akin.
Translation: Sir, please don't be mad at me.
Me: Bakit naman?
Translation: Why's that?
Shampooist: Alam nyo po, masama po yan ginagawa ninyo sa sarili niyo. Hindi po maganda yan.
Translation: You know, what you're doing to yourself is terrible. That's not good.
Me: Ha?
Translation: Huh?
Shampooist: Hindi po yan ang solusyon sa problema ninyo. Kasalanan po yan. Kukunin po kayo ni lord sa tamang panahon.
Translation: It's not the solution to your problems. It's a sin. God will take you at the right time.
Me: Ano yan pinagsasasabi mo?
Translation: What the hell are you saying?
(shampooist pointed to my wrist)
Me: GAGA KA! KINALMOT AKO NG BAGONG KUTING NAMIN!!!!
Translation: DUMBASS! OUR NEW KITTEN SCRATCHED ME!!!!
Shampooist: Ayyy sorry po.
Translation: Oh sorry.
Windang. Tambling. Hindi ko lang siya kinaya.
I think my hair stylist must be fuming at me right this second for tipping the shampooist five times what I tipped her.
Patnubayan sana sila ng poong maykapal.
follow me on Twitter