Anna Wintour on CBS 60 Minutes Video Watch Online
Anna Wintour on 60 Minutes Video
My love for Anna Wintour was reinforced, thanks to her feature on last night's 60 Minutes. I would love to embed the video but CBS has a bloody problem with autoplay. I tried to modify the code by disabling it but it didn't work for some strange reason.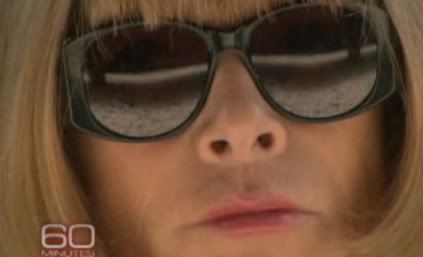 There are two things I dislike about this feature. First, I don't like how Morley somewhat made a mockery out of the characters in fashion. Was it REALLY necessary to point out the outsider's view of the fashion world? I found it so offensive how he used terms such as "part rocky horror show" (cue Gareth Pugh), "clothes fit for a cadaver" and "campy followers" (cue the iconic Anna Piaggi). It's funny alright but I don't think he's doing the industry a favour by mocking them. I'm sure he could do a better job making the American public understand what the industry is about: to inspire, to dress outside your comfort zone, to think outside the box, to express ourselves creatively...
Second -- I find it so tedious that the media ALWAYS, ALWAYS references The Devil Wears Prada when doing something on Anna. So a former Vogue staffer wrote a book based on her experiences and the movie became a hit, yes. But any Editor, or boss for that matter, could be as (or even be MORE) demanding or hardcore as the character portrayed. Can't Anna get a reprieve for a change?
Anyway, I think I'm alone in saying this but I really do have this voice at the back of my head that says Anna is truly a nice person. She may look tough on the outside (as part of her job) but in reality, I'm sure she's a real softie. Again, maybe it's just me. What do y'all think?
Click click click to watch Anna Wintour at 60 Minutes.
Enjoy!
And Emily?
That's all.
follow me on Twitter