Picking up the pieces
Picking up the pieces
So that was that.

My sister and I cried lots during the funeral. It got intense towards the end so we walked a few yards away from my grandma's plot for a quick breather/cigarette break.
$40 might be chump change to most of you but spending it on utterly, utterly USELESS third world mobile internet to email photos real-time is OBSCENE, not to mention very wasteful. I'm telling you, mobile phone providers here should effing get their act together. Hello daylight robbery? What's the point of time-based, 15-minute charging my ass when the connection drops every 2 minutes? Never again....
Click click click!
In this day and age of the internet, I was wondering why not all funeral homes or memorial chapels are equipped with high-speed internet service to stream wake proceedings via webcam. It certainly comes in handy especially for those with family members overseas who are not able to go to the wake. Case in point: my two aunts in the US. I blogged about it before and one of em is battling cancer and going through chemo so naturally, she had to stay there. It would've been so nice to see a loved one for the very last time...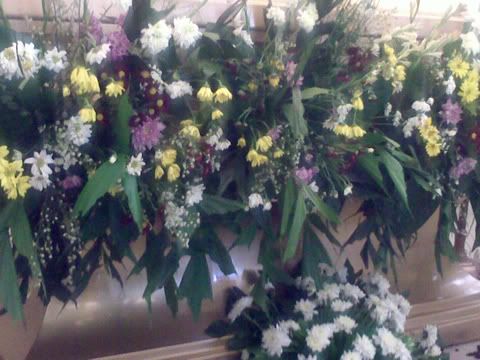 Internet (or lack thereof) gripes aside, I thought the wake and the funeral went well.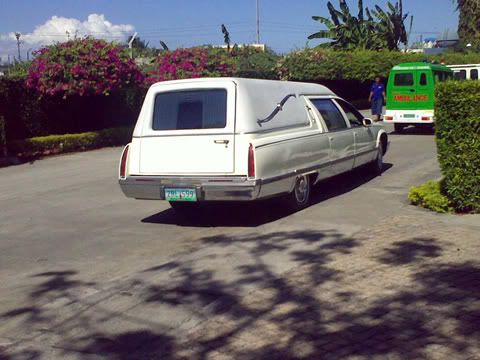 I mean, it's painful to see your entire family in such a horrible, horrible state. Watching my dad mourn the loss of his mother is something that's permanently sketched in my mind for life. For days, he was distraught, very quiet and very anti-social. It's not just him that was affected... you can tell everyone tried so hard to put up a straight face (well, except for one of my grandma's friends who poured it all out and I mean OUT)... but eh, what can one do other than try their best to keep their composure (and sanity intact)?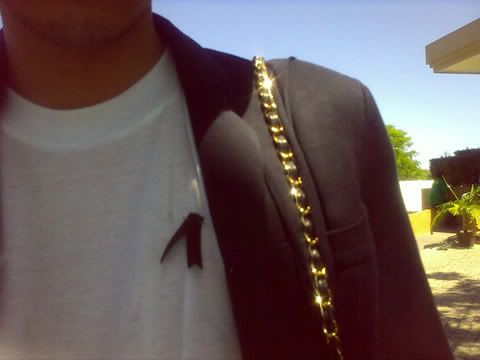 The funeral itself lasted about an hour and a half after all the final speeches etc. My sis and I needed a breather from all the sadness so we went for a quick cigarette break and took some photos.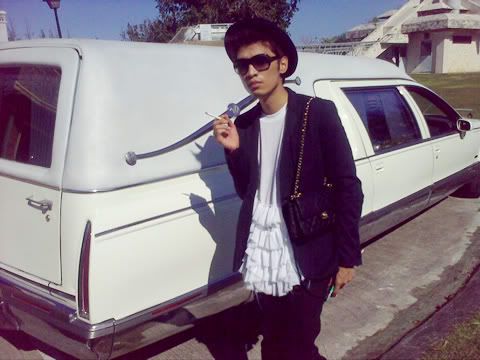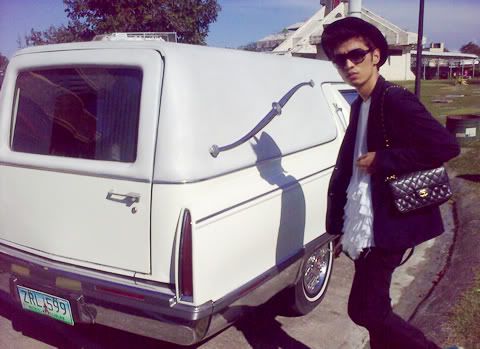 After we bid adios to my lola Amanda, we walked a couple hundred meters to visit my other grandma (mum's mum) and my uncle (mum's bro). It's been quite awhile since we last visited their plot. Oh and my little niece is now a chubby little angel lol!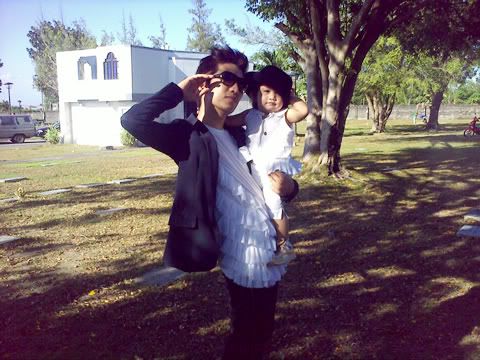 I always giggle every time I see a mausoleums (aka dead rich people mini-houses). They fascinate me to no end. The one below ain't THAT bad (I'm not saying it's pretty) compared to some of the candy-coloured ones I've seen in the past.
My grandfather's cemetery is much cooler than this one though and that's where you'll find mausoleums that look like mansions.
What is it with Filipinos wearing white to funerals? We've been told to wear white hence my white ruffled tee. There's another funeral going on in the cemetery and most of them wore white as well.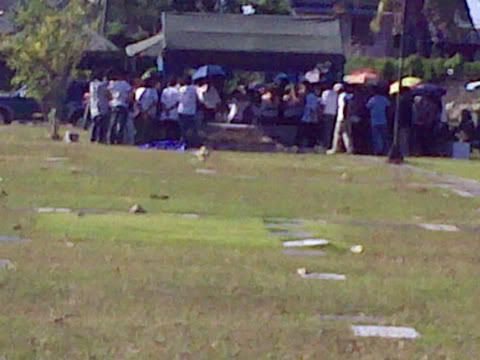 We went back to my grandma's house for post-funeral reception.
Her house was crowded with people and I was too sad, too tired and too exhusted to mingle with people so I told my mom I'd take a quick nap.
I went to my grandmother's room and sat on her bed. The silence was deafening. It was eery.
I looked at one of her photos and cried a little bit.
I stood up and started to go through some of her stuff on the bedside table.
I saw a fresh bottle of prescription laxative, still in the box.
Between you and me, the first thing that came to mind was "OMG WEIGHT LOSS!"
I actually thought of nicking it.
Fortunately, common sense prevailed so I left the bottle untouched.
I guess what it all boils down to is I wanted something tangible to hold, something to keep for myself. I just can't believe she's gone, you know?
My sister and her fiance gave me a ride back home. Everyone's quiet, including my niece and her nanny. We're all exhausted from everything that has happened over the past few days. No one's talking so I broke the ice. I told my sister I tried so hard holding my tears but her speech brought it all out and made me cry.
She kept her silence for a few minutes then she said something along the lines of "it was a good funeral service, better than grandpa's."
I replied by saying "yeah, it was good."
Sis: "we should start saving for a memorial plan for mom and dad because we're getting old."
Me: "I know. Who knows what the future will bring twenty, thirty or even forty years from now?"
Sis: "Yeah."
My sis and I talked about so many things... talking about death, funeral, memorial plans and all this hoolabaloo is something we don't do on a day-to-day basis so you can imagine how difficult it was for me.
Our conversation ended on a positive note though, something about saving to treat our parents on a quick summer holiday somewhere near. Good luck to that though cause I'm broke as fuck.
Meanwhile, I mentioned this memorial plan thing to my mother who already bought four plots a few years ago at a different cemetery. I jokingly told her oh so that's for you, dad, me and another sibling. All we need are two more plots for my other two siblings.
Mom: "I don't want a burial. I want to be cremated."
I'm honestly against this ridiculous cremation idea so I asked her "what if we bury you?"
Mom smiled and said, "I'll leave it up to your conscience. Don't be surprised if someone touches your leg when you sleep at night."
Hopefully my mum's joking about it because the last thing I want is an urn with her ashes somewhere, forever haunting ***ME*** as I'm the most likely person who's gonna keep the said urn.
---
We're gonna have another family gathering later this week to commemorate the 9th day followed by the 40th in a few weeks. I'm not sure as to why but I think it has something to do with superstition or yet another Filipino funeral/death tradition. Who the hell knows.
I honesly don't know how things are going to be from now on. My grandma, the last grandparent I had left (and the one I'm super close to), the one who took care of us a milion times over, the one who we (try) to visit every weekend for years, is now gone... FOREVER.
The question is, how do you resume from here?
Many tears have been shed because of our loss and I know the memories will always be there. I'm lucky to have had her in my life (my mom never saw her grandparents) but it will never, ever be the same, you know?
Oh well.
follow me on Twitter