Natasha Poly and Fashion Bloggers at Vogue Russia March 2009
Vogue Russia March 2009
My gurl, the Russian stunner Natasha Poly, is on the March 2009 cover of Vogue Russia.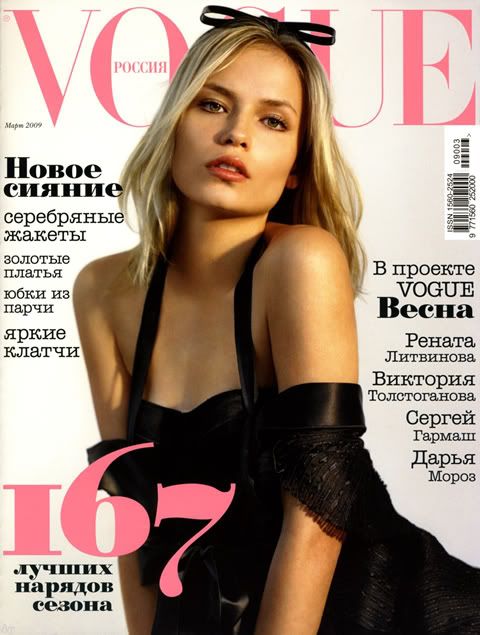 Also in this issue is a wonderful article of their favourite fashion blogs. I don't speak/can't read Russian but I had a Muscovite friend translate the article for me. I always get excited every time fashion magazines and traditional media write about bloggers. Blogging is still a very young 'industry' -- those of us who don't have a lot of experience still have lots to learn from veterans so yeah, it's definitely an honor to be recognized and have their support.
On the first page of the article (click those thumbnails) you'll see that even some of my readers (holding "I LOVE BRYANBOY" signs) made a quick lil' cameo appearance! WOW! Thank you so much for the lovely, lovely mention. OMG Aliona you seriously rock! You know, I was hoping I'd see Aliona in NYC but I've been told (before I left) that she skipped NYC this season so there. Oh well. It would've been soo cool meeting her and my trip would've been "complete". Hopefully that would happen sometime in the future because Aliona Doletskaya is one of my favourite editors E-V-E-R.
Special thanks to Josef who lives in Austria for the scans. You're so lucky you're able to buy Vogue Russia there!!! I hope something shows up on eBay soon because I want to get my own personal copy. Hello, Vogue Russia is one of my fave magazines and you guys already know that.

scan credit: Josef/achAT
follow me on Twitter