Lanvin Tattoo
Lanvin Tattoo
Thanks to google alerts, I recently found out I sat beside Lisa Tant (Editor-in-Chief of Canadian fash mag Flare) at the Marc by Marc Jacobs Fall 2009 show. She wrote "I'm sitting next to Bryanboy, the blogger - and obsessive Jacobs fan from the Phillipines who's here as Marc's guest. He pulls a camera out of his Chanel purse and starts snapping away." on her blog entry.
Well, there are fashion fans (like myself) and then there are HARDCORE fashion fans. One of my readers, D'Mitri Agnes-Capone from Boston, recently got himself a Lanvin tattoo. Ouch!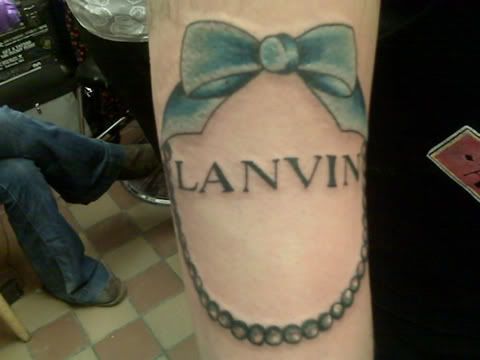 Are you thinking what I'm thinking? OMG IT'S LIKE JASON PRESTON 2.0 all over again!
Oh Alber....

photo credit: d'mitri agnes-capone
follow me on Twitter