Maison Martin Margiela White Suit Jacket SALE
Maison Martin Margiela White Suit Jacket SALE
It's 5:49AM. I should be sleeping right now but here I am trolling the internet because of all the sales. I can't sleep at all. It's driving me insane! 
This white Maison Martin Margiela suit jacket is somehow calling my name. I don't know why.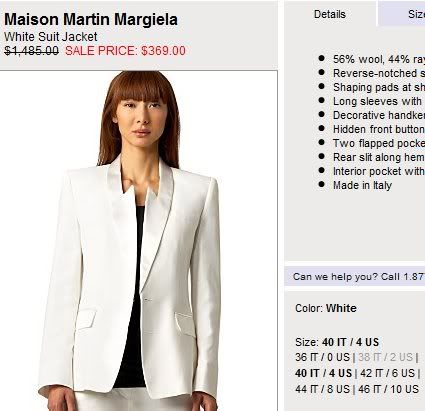 There are a few sizes left -- size 0, 4, 6, 8 and 10. Size 2 is completely gone. Retail price is US$1,485. Wanna know the sale price? US$369! OH EM GEE INDEED!
I'm a few keystrokes away from ordering but I think I'll sleep on it. The jacket is beautiful alright (I mostly buy women's jackets because of my size) but I have this cloud of doubt over my head. Perhaps it's the price I'm (really) attracted to versus the jacket itself? Come on... a Margiela jacket for three hunded bucks? Is that a steal or what?

photo credit: eluxury
follow me on Twitter