Gucci for Pizza Hut?
Gucci for Pizza Hut?
I'm not usually the type of person who makes New Years' resolutions. I think they're rubbish. That's gonna change next year though. I thought I'd give it a shot. My life (or should I say my body) needs some sort of a direction. Let's face it -- I'm not getting any younger and the older I get, the fatter I become. My weight is getting ridiculous, which is why I'm gonna try to adopt a vegetarian diet right after Christmas. No more pork, beef, chicken or what have you.
Now. I haven't had pizza in months so I ordered something from Pizza Hut last night while the parentals were gone. Apparently I ordered so much the delivery guy gave me two raffle stubs. Ugh!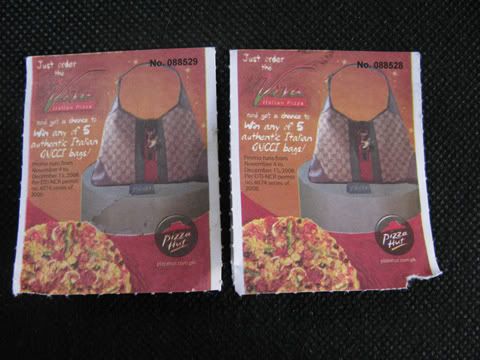 Will someone please for the life of god explain to me what is going on? Since when did fast food chains started giving away luxury handbags as prizes? According to the raffle stub, there are  5 "authentic Italian Gucci bags" to be given away. If you add up the total retail value of those five bags, it's probably less than what Pizza Hut had spent OR will be spending in promoting/marketing this contest. I don't know about you but there's something wrong here. I have a feeling Pizza Hut is being a cheapskate and capitalizing on the Gucci name.
Ah well. Wouldn't it be funny if the bag on that photo ended up being a fake? I'm no Gucci (or handbag) expert so I'll leave the authentication to you guys.
follow me on Twitter