Bluefly at Gossip Girl
Nice Try, Bluefly!
I see what you did there. Hahaha! I had to interrupt my weekly dose of Gossip Girl to blog about Bluefly's shameless marketing placement.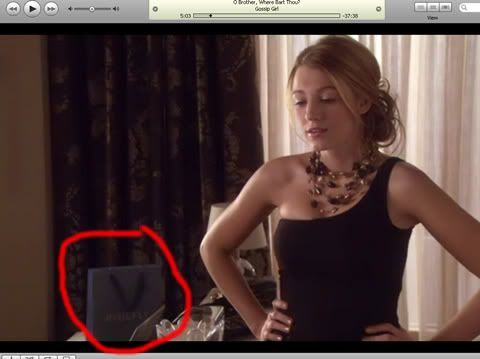 A Bluefly paperbag... I love you guys and all but this is hysterical! Interesting because Bluefly.com is an online store selling discounted past-season designer clothing. Does Bluefly even have retail locations to warrant a paper bag? Or maybe, just maybe, Serena went to a Project Runway/Christian Tranny Fierce Siriano event and got herself a Bluefly goodie bag.  Hmmm.. can you imagine, Serena VdW buying off Bluefly? Who does she think she is? Olivia Palermo who shops at Salvation Army?
Just wondering, that's all.
follow me on Twitter