Attention Singapore
Attention Singapore
If you haven't bought the December 2008 issue of Style: magazine, do so now! I FIIIINALLLLLLY got hold of the last four copies at the airport (Terminal 2). I'm not sure IF or WHEN they'll replenish it but I've been told by a few readers they're having trouble getting hold of their own copy because it's been sold out at a few locations. I really do hope that's the case. I want **MY** issue to be flying off the shelves so that Wayne Sterling can also say on camera that I'm moving issues like Natasha Poly... and then I'll get to shoot MOOOOAR editorials and spreads. Hahaha! No seriously, buy one or two copies now. I'm going to Singapore soon (when... I don't know. But still.) and I'd be more than happy to sign them for you. Feeling model/celebrity attention hog much?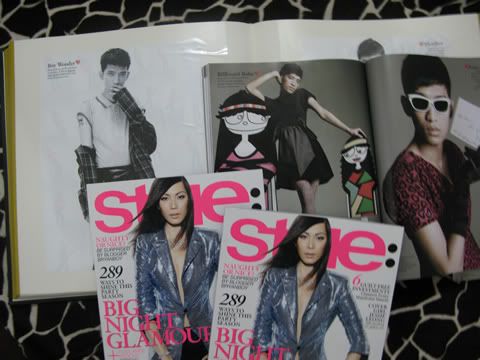 I got four issues and two of them went to my little humble press album. I'm sending one to my friend in Canada which means I have another copy to give away FOR FREE, signed, sealed, delivered, to someone who ISN'T in Singapore.
All you need to do is answer this question correctly: WHERE IS BRYANBOY'S DREAM DESTINATION... FOR NOW? Here's a clue.
The first one who is able to guess it right will get the magazine by international airmail. Email your answers to bryan@bryanboy.com. Only one entry is allowed per email address so you have to guess it right the first time around.
Deadline is December 10, 2008 so go go go!
follow me on Twitter