And the winner is...
And the winner is...
I apologize for the delay in announcing the winner of my dream destination contest -- proof that I'm really the world's worst procrastinator. A big congrats to Jonathan B. who lives in Narrangansett, Rhode Island USA. He was the first person who was able to guess my dream destination right. He emailed his answer within minutes of me posting my entry. Except for the very few who got it wrong (wtf Copenhagen? wtf South Korea? better luck next time...), I suppose most of my readers are smarter than what I thought. Hah!
Jonathan sent a funny photo of him in Taipei when I asked for his mailing address.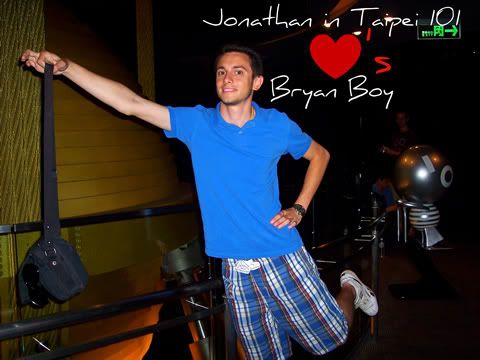 So where is my dream destination? The answer is: New Delhi, India. OMG I've *always* wanted to go there but never really had the chance (or should I say the balls) to do so over the years because opting for the usual places seemed to be the easiest option. Nevertheless, I'm gonna make an effort to try to visit there next year (set this in stone) for a vacation.
Why New Delhi, why India you ask?
If memory serves me right, I remember going to a dinner party many, many years ago (at an Indian restaurant of all places) and travel was one of the topics at the table. Everyone was talking about how they wanna go to this and that place yaddi yaddi yadda. When it was my turn, I told the group I wanna go to India. Then this girl went into a crazy SHOCK-HORROR mode and went all "eeew why do you wanna go there? it's so smelly, it's filled with homeless people, people with no limbs roam around the streets, blah blah blah". She went on and on and on with her tirade, not giving me the opportunity to answer her question. I quickly asked her,  "well, have you been to India before? where do you wanna go next"? She replied by saying no she's never been and she wants to go to LA to visit family and friends etc... so I snapped, "you go girlfriend. Go to LA while I soak up some culture in India."
What's so amusing though is how she made all these comments about poverty in India when the bloody restaurant we were at is situated smack in the center of what used to be (or so I thought) one of the red light districts of Manila where homeless children and beggars roam the streets etc.
Anyway, I think India's so rich in culture, history and tradition. The food. The architecture. The sights and sounds. I have this folder in my computer filled with all these magical images I've saved and I look at them when I'm in the mood to dream! Like China and Russia, India has changed tremendously over the recent years -- shit, they even have their own Vogue and that speaks for itself, no? Going there for a visit, I'm sure, is gonna be on heck of a great experience.

photo credits: flickr
follow me on Twitter