A Lovely Dinner
A Lovely Dinner

The yuletide season is usually the busiest period for most folks. It's that time of the year when every single day is brimming with countless engagements and celebrations. Some people escape the crazy festivities by going on vacation and traveling somewhere. I once made the mistake of spending the holidays in Paris on my own a few years ago. Would I do it again? Probably not. But if you give me 50,000 euros, then perhaps I'll reconsider. Hah! But yes.. although I had so much fun and memories in beautiful Paris, I'm sure you'll agree with me when I say that Christmas is best spent WITH your loved ones regardless of where they are in the world.
Speaking of which, my friends Martin and Yoshiko are here in Manila once again. We had a lovely dinner the other night at Zuni.

Gorgeous Yoshiko modeling my Christmas gift and her husband, the jaw-dropping Martin.
Click click click!
It's such a joy to reconnect with visiting friends who live in faraway places, especially people you haven't seen in a long time like Martin and Yoshiko who lives in Tokyo.
I know this goes without saying but it's really my turn to visit them there because they went to Manila twice this year already. Gosh, I now have a lot of must-go-to destinations next year: India, Russia, Japan, New York, London, Paris and Milan. If I continue daydreaming at this rate I'm gonna have to find a sugar papi DAY JOB that pays more than blogging. LOL!!!!
Anyhoo, the beautiful couple gifted me with a copy of Commons&Sense Man magazine, Issue 05.
It's such a great publication. It's enormous (like V Magazine) and the paper is super nice and thick. Think of it as one of those coffee-table variety publications.
Best of all, the photographs inside are stunning. 104% fashyonnnnn!
I also got this "Super Marc by Marc Jacobs" mini-book published by ElleGirl Korea.
It's funny because I saw this online a week or two ago but it's only available in Korea. Well, Martin recently went to Seoul and got a few copies and I got one! :-)
The book has a lot of images of Marc, his work, his fall/winter 2008 Marc by Marc Jacobs collection, models, postcards, stickers, etc.
Hmmm that bag looks familiar. Hah!
You know how I've been saying for the longest time that I'm working on a moleskine scrapbook to give to MJ? Well, it looks like ElleGirl Korea beat me to it but I'll send him one anyway. Hopefully I'll finish it within the next week or two.
Thank you so much for the lovely presents! As always, it's such a pleasure seeing the two of you. I'll definitely work on (and save for!!!!!) a future trip to Japan. Then we'll all visit Le Baron de Paris in Tokyo.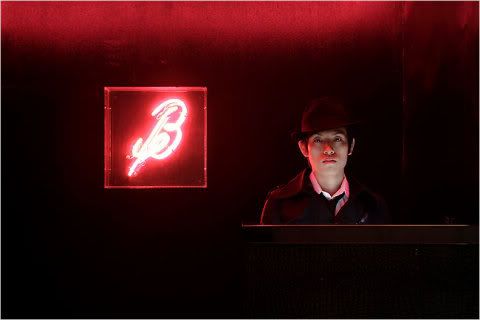 photo credit: IHT/nytimes
OMG you guys can you imagine the sort of fun I'll get myself into? I have the sign "BIG IN JAPAN" flashing before my eyes right now like Tinsley Mortimer for Samantha Thavasa. Just kidding. Haha ;)
Ok ok ok enough about Tokyo fantasies.
Thanks to everyone who came and happy holidays Martin, Yoshiko and to all of you!
That's all.
follow me on Twitter