Vogue Russia. 10 Years in Vogue
Vogue. Russia. 10 Years in Vogue
Remember my blog entry about those gorgeous designer Matryoshka dolls last month? Well, Editor-in-Chief Aliona Doletskaya's assistant emailed me earlier today with details.
As you have seen on the November 2008 issue of Russian Vogue, some of the world's leading designers (including Miuccia Prada, Donatella Versace, Marc Jacobs, Ralph Lauren, Dolce & Gabbana, etc.) designed a Matrioshka doll. Each of these (half-a-meter tall) dolls were handrafted by skilled Russian artists and meticulously painted by hand.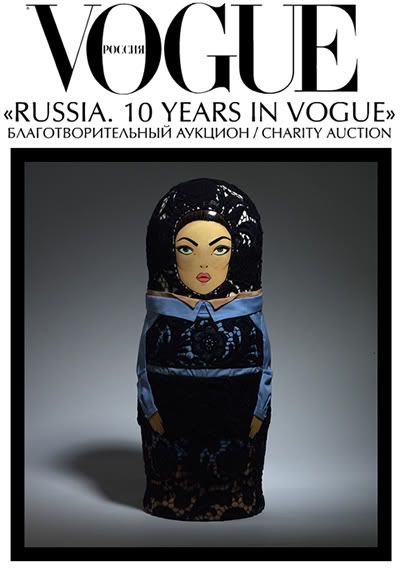 To celebrate their 10th anniversary, Vogue is hosting a grand gala dinner on November 20, 2008 for 200 of Vogue Russia's closest friends which includes international business and political elite, key players in the art and fashion worlds and Russian and international celebrities. Are bloggers invited too? Just kidding. The Matrioshka dolls are then going to be auctioned off for charity that night. Proceeds from the auction will benefit the Northern Crown Foundation, a charity that helps orphaned children throughout Russia.
In other words, pedestrians like you and myself won't be able to bid on these gorgeous dollls. But that's OK. One must be kerrr-azzy to go on a bidding war with a Russian oligarch anyway!!!
Amazing eh? How can you not love Aliona and Vogue Russia?
For more information, visit http://www.vogue.ru/10years.
Happy birthday Vogue Russia!!!!
PS. Thanks Ekaterina!
follow me on Twitter