Viktor & Rolf says "NO" to Fast Fashion.
Viktor & Rolf says "NO" to Fast Fashion.
I know that you know that I'm still waiting for my Russian oligarch to show up on our doorstep and sweep me off my feet. I don't know if any of you know a real bajillionaire Russkiye but if you do, tell him to send a private jet! The International Herald Tribune is holding their annual luxury conference next month in New Delhi, India. They have a very interesting and diverse group of speakers, ranging from Salma Hayek's baby daddy, François-Henri Pinault, Elizabeth Hurley (HUUUUUWHATTT??), international playboy and tranny fanatic Lapo Elkann to Manish Arora, Dries Van Noten and Roberto Cavalli.
I checked the line-up of speakers lo and behold Dutch design duo Viktor & Rolf's will talk about Fast Fashion.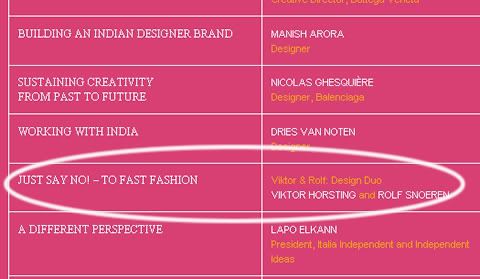 Just say "NO" to fast fashion? Fascinating. I'm intrigued! Remember the collaboration they did with H&M? Interesting. I'M DYYYYYING to know what Viktor & Rolf will say.
Now who wants to buy me plane tickets and pay the ultra luxurious £2,495 registration fee to participate in this 2-day event? I hope you get to stroke Suzy Menkes' hair, hug her AND they better be giving away a ton of Bottega bags for that amount.
Russian Papi come to meeee.
follow me on Twitter