Channel News Asia (Singapore) Primetime Morning - The Insider
Channel News Asia (Singapore) Primetime Morning - The Insider
It's 9:30AM and I just finished watching Channel News Asia interview (live, if I may add) the lovely and adorable Sharon T. who is Style: Magazine Singapore's Fashion Editor. She was there to talk about Fashion Blogs.
Guess who got a great plug in Singaporean televeeeeeshonnnn beamed across Asia? Unfortunately, I don't have a tv in my room so I watched the whole thing via streaming video online. Click click click for screenshots!
Sharon is super lovely. Here's a quick photo of me and her having a quick ciggie during our shoot.
I'm in a robe because I was in between outfits. It's funny how one of the assistants gave me a bag and then the photographer, Wee Khim, took a couple of shots. Hysterical! I guess we all have to wait and see for the photos.
Back to the show...
It's great that bloggers are being promoted in traditional media, both in print and TV.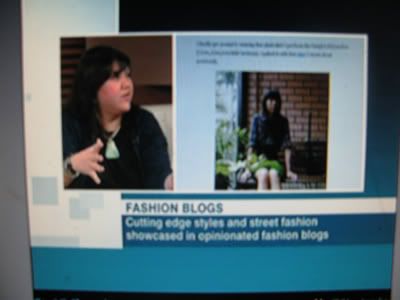 And then there's ickle ol' me.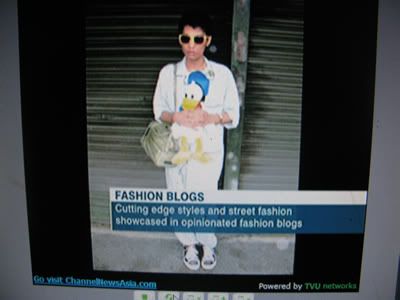 (BTW, can I just say it's kinda funny thinking about that outfit I wore IN PUBLIC a few months before Dolce & Gabbana sent models in pyjamas down the runway? JK! Hahaha!)
Yeeehaw!
I can't wait to see my big editorial. You have no idea how excited I am because I thought that was a fun, fun shoot. I got to do so many looks! Who knows, maybe I'll get to do more editorials in Singapore (and beyond!!!) in the future. Delusional much? Haha!
Just kidding.
No seriously... I can't wait!
Thanks Sharon and Channel News Asia. I wish I was there. See you guys **SOON**
follow me on Twitter