Bryanboy's Hermès Twilly Index
Bryanboy's Hermès Twilly Index
When my dad used to work for a multinational firm when I was a child, he often came home with the latest issues of IHT and The Economist magazine. I remember him forcing me to read these publications instead of my beloved Sweet Valley Twins/High/University (Team Jessica Wakefield!) paperbacks. Anyhoo... one of the things I love about The Economist is their "Big Mac Index". It kept track of the price of McDonald's Big Mac in all these countries as well as currency exchange rates etc. Clever eh?
It occurred to me a few days ago that maybe it's time for the fashion-obsessed minions out there to have something similar. Armed with my mobile phone and the Hermès store directory from their website, I placed a few phone calls over the past two days (even as far as New bloody Caledonia) to check how much their beautiful silk ribbon (aka the Twilly) costs. I chose the Twilly because it's Hermès' #1 entry-level product and many people can afford it compared to a Birkin or a Kelly bag. I originally planned on doing Chanel and the classic 2.55 quilted lambskin bag but I chickened out in the end... in these crazy economic times, the last thing I wanna do is deal with far too many zeroes. After all, if you have to ask then it means you can't afford it. Hah!
So ladies... may I present you the Twilly Index.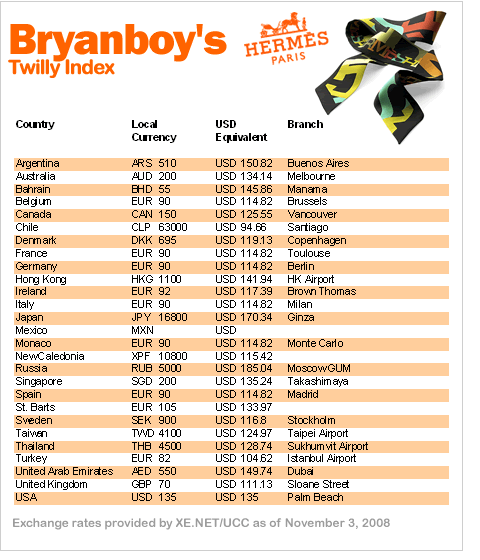 There are a few things to note about the above Index. I still have lots of phone calls to do. It's hard dealing with language barriers and time zones. I called a few airport boutiques when the city branches were closed. For instance, I rang Tokyo's Narita airport who quoted me 13,500 Yen for the Twilly but a friend told me they charge 16,800 yen in Ginza. The HK price however is accurate and is the same across the board. Some boutiques quoted in US Dollars or in Euro that I had to ask them the actual local price. Remind me to call Turkey again tomorrow.
The price differences (or lack thereof) between cities is interesting. There are lot of factors to consider though, such as duties and luxury tax, buying power, etc. For instance, it seems that most boutiques in the European Union charge the same price. Moscow, on the other hand, wants you to shell out approx. US$185 for a silk ribbon that you can buy for $125 or $135 in the USA. I wasn't surprised with Moscow because everything is rather prohibitive in Russia and everyone there is bloody wealthy. Meanwhile, the biggest shock of all was Chile. Based on the current exchange rate, it's the BEST place in the world where you can buy a Twilly -- US$94!!!! Dang!
I know I missed a few countries/cities (ie. Mexico, China, etc) so any help over the next few days is appreciated. Consider the index a work in progress. I'll update when I get new information.
PS. I love the lady in Toulouse, France. She was so super helpful. Same with the gurl in Copenhagen.
follow me on Twitter