Alexis Mabille Bow Ties
Alexis Mabille Bow Ties
If y'all knew how obsessed I've been with bow ties lately you'd probably think I've lost my mind. The thing is, I don't want just another bow tie... I want SPECIAL bow ties. If I wanted regular ones then I might as well go to the Brooks Brothers website (something I've done a thousand too many times recently) and call it a day. But yeah... where's the fun in that?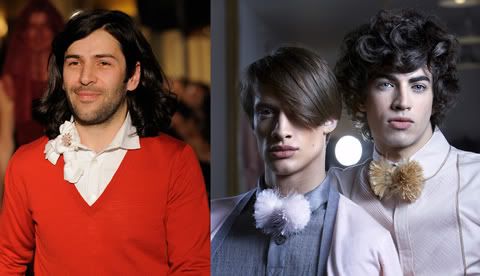 Anyway, meet French couturier Alexis Mabille. I've kept track of his work for quite some time now. He makes the most beautiful bow ties in the world... in fact, bows and ribbons are his signature trademark! He also opened the French couture shows last season. He's incredible! Remember my friend Andrea from Italy from a few months back? His bow tie is soo cute!
A few clicks down the online yellow brick road and I found some of his bow ties at luxury emporium Couture Lab. The unisex appeal of his work is one of the reasons why I'm obsessed with him. How magnificent are these?



Alexis Mabille bow ties, US$190 - US$577

I would totally get some Alexis Mabille action for myself but I'm gonna have to wait until my finances are in a better shape. You can't just have one... you have to have a bow tie for each day of the week. You have to have it all! Besides, couture is couture is couture is couture and we all know couture doesn't come cheap. There's nothing wrong with window shopping or dreaming though so go right ahead and see it for yourself.
Alexis Mabille is LOVE!
follow me on Twitter