Steve Grove, YouTube
Steve Grove, YouTube
I know I've been obsessed with US Politics lately (ok fine whatever... maybe Sarah Palin's outrageous expenditures & aesthetics because, afterall, my blog is a fashion blog) but oh my god you guys, wait till you see my newest obsession. His name is Steve Grove, he lives in San Francisco, and he's YouTube's News & Politics Editor. He also video blogs on YouTube under CitizenTube. HE IS SO HOT!!!!!!
I spent two hours watching his videos online. I really think he's cute. There's just something about his face that makes me want to go back and hit the play play play button over and over and over and over. No other media person has made me feel this way. OK, maybe Vogue Nippon's Anna della Russo because that woman is so thin, so fierce, so ferosha, she wears everything straight from the runway. I love her!
Enough about Anna though and more about Steve. Legs akimbo ladies and say HOEE-LAH to papi. Click click click!
Is that gray hair that I see? JD Ferguson is dat chu?
Here's a vid of Steve voting at the comfort of his own home. It's interesting how Americans can vote early and send their ballots in the mail. Hmmm... since Steve lives in California, I wonder whether he voted Yes or No to Proposition 8. I hope he voted NO.
Want moar? I'll give you moar!
He's soo cute, no? Well, here's a funny photo of Steve courtesy of
Newsweek
. They profiled him earlier this year so if you want to put a stop to this crazy obsession, just take a look at this photograph and check out his jeans!!!!!!!!!!!!!!
Cue Amber from Clueless: she could be a farmer in those clothes!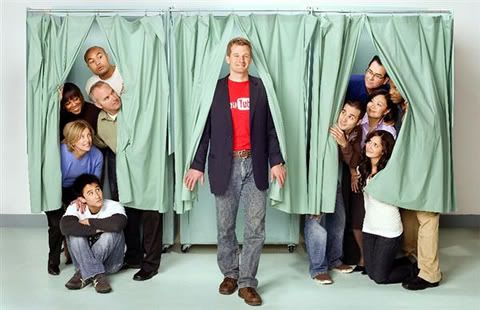 So... the question is... is Steve Grove hot or not? Answers on a postcard...
PS.
The first person who finds his XTUBE account will get $500 from me via paypal. That's all!
follow me on Twitter