Rustom Padilla in Drag at Urian Awards
Rustom Padilla at Urian Awards
Let's take a break from all that fashiiiin. Here's something for monkeys in the the third world. I know I said I'll no longer blog about third world showbiz but this is just wayyyyy too outrageous (and hilarious) for me not to post on my site.
Now.
OH. MY. GOD. OH MY GOD TALAGA!!!!!!!!!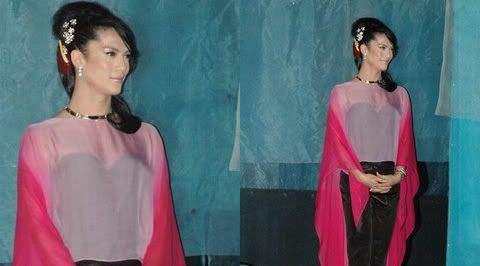 TANG INA MONG BAKLA KA!!!!! HINDI KITA KINAYA!!!!!!!!!!! WHO DID THAT TO YOU RUSTOM? SINO ANG STYLIST MO??? IC MENDOZA DID YOU HAVE A HAND IN IT?? Charing!
In fairness to Rustom ang ganda ng fez. I bet kapag tinabi mo sa yo si Ruffa siya ang magmumukhang bakla!!! Anyway, tumambling ako ng todo. Juice ko dayyyyyyyyyyyyy!!! Gurl, CHAKA lang talaga nung outfit at accessories mo. Kulay fink pa talaga. Fink na fink. Tuloy, nagmukha kang ching chang chu (tsin tsan tsu or whatever the hell you call em na ginagagamit nung mga chimi na galing sa probinsya para pumuti). Gross.
Yung lang pow.
And now let's go back to regular programming. Enough of this insanity.
PS. Good on ya Rustom. Hysterical!!!!
follow me on Twitter