Clooney Restaurant Auckland, New Zealand
Clooney Restaurant Auckland, New Zealand
Tonight, my dear readers, I had the unfortunate moment of dealing with the RUDEST and most OBNOXIOUS person I've ever encountered in my entire life. I'm no spring chicken and I guess I've been lucky enough to have met many people around the world regardless of their background -- I can say that everyone has been nice so far... but tonight was just the WORST.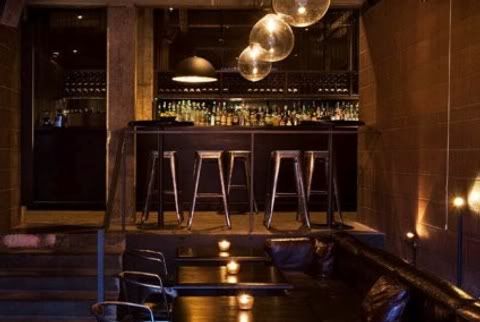 After the Hailwood show, I went back to the hotel to change clothes. There's an afterparty going on at Clooney's. I thought it would be nice to freshen up, change clothes and go out for a few drinks, especially after a day's worth of shows.
I went there with new acquaintances. I told them I'm gonna meet them indoors in a few minutes because I wanted to smoke a cigarette first --  Dorothy we're not in Embassy este Kansas no more... in Auckland, everyone smokes outside!
I went in after my ciggie and there's a door guy called TONY. I *politely* told him that I'm looking for my friends and I'm alone blah blah blah. He told me it's "full" and I couldn't get in. I thought, oh, ok, whatever.  No big deal. I'm not really used to queues (whatevs...), and there were tons of people behind me so I thought I'd get myself a drink at the bar and wait for my friends there.
A few minutes have passed and I saw people getting out and going in. I saw quite a number of familiar front row faces throughout the shows, also waiting on the queue, and a few ones said hi -- you know me... I'm very friendly to anyone who says hi... I even saw the Brit who sat behind me during the flight from Hong Kong!
To cut the story short, I tried to get in the second time around. Tony (whatever his name is) let me in... I had a quick look inside and I noticed there were quite a number of EMPTY tables. I didn't like the idea of me being alone so I went back to Tony literally AFTER ten seconds just to ask if I could get a table (if there's anything he could assign to me) and invite two or three people with me for a drink. It was a straight-forward, honest, polite question. Lo and behold the polyester-wearing minimum waging door bitch piece of shit (excuse my French) told me "it's either you stay in or you can FUCK OFF with your friends". Those were his EXACT words and he said that WHILE he pushed me out.
I have NEVER encountered anyone SO rude in my entire life. I'm trying to understand that he was just doing his job but that was just vile and foul considering I did my best to be polite at all times. Quite frankly, I could've just left. And that's exactly what I did. Thank god my acquaintances went out a few minutes after that because it was just A-W-F-U-L. Never again I'll set foot in that place.
Everyone in Auckland has been super duper nice so far except for that CUNT. 
Drama is drama and god knows what other people would do if they were in my shoes but I just left. It is what it is. I hope Tony is being paid VERY HANDSOMELY to be doing that job. I mean come on!!!!
The blue collar/service industry people (hah!) like him must be getting SO MUCH money that he's able to act the way he does. Maybe I should switch careers?
I really hope he loves his oh so super fabulous and oh so super glamorous job.
Can you imagine me working at some restaurant/bar telling people where to sit, where to go or what have you?
YUCK. Yuck talaga.

At the end of the day, I'm not the one holding a clipboard.
That's all I have to say about this matter. Issue closed.
;)
follow me on Twitter